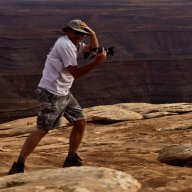 Joined

Sep 6, 2012
Messages

318
Wildflowers to Pfeifferhorn, July 2013
Another Saturday was ticking right on by, being wasted indoors, and it was prime wildflower season. There was one wildflower on my list that I really wanted to find good examples of and photograph,
Dodecatheon aplinum
. A great excuse to get out and enjoy a little bit of summer, as if I needed one! I knew a couple places to look but had only seen one sad example before and decided that would be a sure place to go. So an impromptu hike along the Red Pine Canyon trail in Little Cottonwood Canyon superseded any other plans or lack thereof for the rest of the day, a popular central Wasatch classic hike yet always a personal favorite. The summer monsoon had been pretty active so I went prepared for a late start by loading up the Kestrel 38 with some extra gear for enjoying a bit of liquid sunshine.
I was on the trail shortly after one o'clock and a few minutes later dragged the heavy Olympus E5 out of my Osprey and photographed a flower I hadn't yet seen before, the effort to pull off a late start hike was paying off already!
Pink pyrola,
Pyrola asarifolia
Then I got down to business getting up to the location I had in mind to find what I was looking for. Upon arriving at the general area I broke out the camera again and re-photographed several flowers while disappointingly not finding my goal where I had previously spotted one, would they dodge me again for another season! Clouds were building and conditions felt gloomy.
White Bog Orchid,
Habenaria dilatata
Elephants Head ............................................................... False Hellbore
Wasatch Fitweed,
Corydalis caseana
The sun was still peaking through on occasion, I continued my search along trail side meadow and kept hiking slowly.
I was ever on the look out for a tiny hue, a specific color, a certain bright purple, and it just wasn't appearing. But I kept seeing a darker blue, also minute, and in the same habitat I expected to find what I was looking for. Finally something in the back of my mind was telling me I needed to look closer.
Then the trail veered just alongside one of these meadows and the tiny blue flowers begged attention so I stopped to examine them when suddenly in the corner of my eye and with a huge relief I knew I was also in the presence of my motivation for this hike. First though a closer look at my guiding flower, a nice add to my collection.
Alpine Veronica,
Veronica wormskjoldii var. wormskjoldii
And then I went nuts shooting the dickens out of the Alpine Shooting Star that have escaped my lens for so long. There was a flurry of shutter releases during brief moments while the sun appeared from behind obnoxious monsoonal approach clouds, and while cramped muscles strained to hold still during uncomfortable squats for a good angle shot without flattening the meadow or marring the soft moist earth with rugged boot.
Had I known the results I might have kept at it a good deal longer. With not knowing, I figured there must be some good shots in there as I grew restless, and decided it was too nice of a day to stop and turn back now.
Next thing I know, I'm beyond Red Pine Lake and looking at some bright cheery Parry's primrose, since taking blurry photos at dusk during another late start turned Timpanogos overnight-er a few years prior I've been waiting for another chance at these and finally got it.
Primula parryi
More than payoff, this hike was becoming wildflower pay-dirt. No thunderstorms appeared over the high ridges above me yet, and I just kept climbing, and climbing. Now I find myself on the minor ridge above both the Red Pine lakes, the weather holds, and I find another reason to rest, with Gorden's ivesia on my list of flowers to get better photos of.
Ivesia gordonii
Now I decide I might as well continue to the high major ridge line above and take in the view across two Counties.
Along the way, no surprise by now, another first for my wildflower photo collection, Moss campion.
Silene acaulis
On top the ridge it was all about dark thunderstorms over the Salt Lake Valley and sunny skies over Utah Valley and no clear view of the weather coming in from directly west due to the beckoning summit of the Pfeifferhorn! So close, might as well have a closer look at least, and keep an eye on the weather.
Tiny Phlox or Flaxflower and buttercups or similar frame a Red Pine Lake and the Cottonwood Divide background.
So as I recall, I'm arriving at the knife edge of young igneous intrusive rock separating me from a beckoning triangular peak, thinking to myself that if I hear thunder I will sound retreat, but It would be a perfect shame not to quickly summit and turn this afterthought of an activity in to a real hike to remember. At the same time out of the corner of my eye is a pretty big sunflower... a few steps later towards the defile... wait a minute, what pretty big sunflower is way up here!
The one and only Old Man Of The Mountain of coarse, another score!
Hymenoxys grandiflora
Now to summit then! It was time to get serious, no lollygagging, only huffing and puffing to be the order of the late afternoon. I was across the knife edge with more effort than I would prefer and about half way up the "natures stair-master 2000" climb to the top when a roll of thunder sent chills up my spine and causes me to pause and assess the situation. Well there is tendrils of cloud drifting around the ridges below me now, but still dark sky to the north, blue sky to the south, I'm on a the edge of the weather, which seems to be trending north. I quicken my pace and make the summit. The thunder rolls somewhere over Big Cottonwood, but with cloud peeling off the ridge west of and below me, I waste no time taking a handful of quick photos from the top and start right back down, camera stowed en route.
At the base of the peak the weather hasn't closed in like I expected so I take a breather. I spot some Alpine Penstemon that I've captured on Timp before and decide they are not worth re-photographing right now, but then notice right next door a new to me alpine version of a familiar plant, Dusty Maiden, which prompts the Olympus to come back out anyway. Note the tiny black ant for scale.

Tiny Pincushion
by
xjblue
, on Flickr
Chaenactis douglasii var. alpina
Camera away again, then back out again because the light is really cool on the Maybird Gulch lakes and the Hogum Devide as I scramble back over the narrow ridge. About this time I notice my breath hanging in the air and realize how drastically the temperature has dropped. Time to keep moving! Once off the slender crux a quick glance back reveals another storm lined up rather perfectly this time out over Utah Lake, and more cloud from an unseen source already overhead and wrapping around the Pfeifferhorn's west ridge. I make a new goal to be off the high ridges before the rain arrives and put the E5 away for the next good while.

Stormy Pfeifferhorn
by
xjblue
, on Flickr
Rain began falling with the approach of more awesome thunder reverberating around the mountains while I was still descending the forest ridge above the lake. It would continued all the way down to the overlook view of glacially scribed Little Cottonwood Canyon. The temperature had risen quite a bit while descending such that simply an old faded but trusty gore-tex lined Seattle Sombrero and the rain fly over the Kestrel were the perfect amount of extra donned gear. The mostly light precipitation was nearly refreshing and made for a wet, slippery, but otherwise quite pleasant descent. The thunder and lightning stayed just to the west and moved north over Big Cottonwood. The Cottonwood divide emerged from the dark slate sky with arrival of low angle evening sun light from the west penetrating beneath the storm and causing the sky to glow from the countless droplets of the predicted liquid sunshine still falling after the electrical conflagration subsided. I made it back to the White Pine trail head a little after sunset both completely exhausted and refreshed all at once.

Storms End
by
xjblue
, on Flickr
Featured image for home page: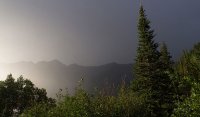 Last edited: