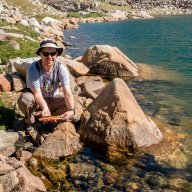 Joined

Jan 19, 2012
Messages

1,199
08-07-08 to 08-10-08
This was my first trip ever to the Unitas! We had decided to go to Gilbert Lake as we had heard the fishing is good. It's just north of Gilbert peak (3rd highest peak in UT at 13,442'), which is just north of Kings peak (highest point in UT at 13,528').
We didn't leave Cache Valley until around 9am Wednesday morning. By the time we got to the trail head is was 1pm. The trail was an easy 10 miles with about 1900' elevation gain. The hard part was trying to breath with a heavy pack (over 50 lbs) at 10,000'! We eventually made it to Gilbert Lake with enough time to setup camp and filter water just as the sun was setting. We had all marinated and then frozen some steaks the night before to take in with us for dinner! Unfortunately they didn't turn out that good. If you're like me and you loose your appetite at altitude, then trying to force yourself to eat a steak cooked in a frying pan at 10,900' when you're tired and not hungry is not the funnest thing to do.
The next morning we awoke to find two or three Moose in the Lake! Most of the Gilbert Lakes are fairly shallow, averaging around 5'-6' I would guess. The moose where VERY skittish of us and would easily get spooked and run off, making it hard to get a decent photo of them. We saw moose all over this basin while we were there!
Gilbert Creek above Gilbert Lake
Fishing the 1st lake above Gilbert (Lake 151)
Lake 151
2nd Lake above Gilbert Lake (Lake 152) and Gilbert Peak
More moose in Gilbert Lake
Setting the hook!
Every single day it rained on us (except for the first day). During one of the heavy rain storms I realized my tent leaked like a SOB! I had to go out in the middle of the storm and jimmy-rig plastic garbage bags to cover the tent where the rain fly didn't. For some reason the design of the rain fly on this tent didn't come all the way down on 3 sides. So the rain would run off the fly, onto the side wall of the tent, and down to the seems near the bottom and leak in! What a stupid design!
This day it hailed on us! We were about 2 miles from camp so we took shelter under some pines!
Later, back at camp...
Gilbert Lake and Peak from camp
Gilbert Peak sunset
On the last morning we had decided to get up early and book it out of there as it had rained on us everyday at around noon! So we loaded up and hauled ass down to the trail head to beat the pending noon day rain! Just as we got to our vehicle it started to sprinkle, we had made it! We made it back to Cache Valley by around 5 or 6pm.
In 3 days I would be heading into the
Wind Rivers
. I had to quickly unpack and wash my clothes and re-pack everything. Having discovered my tent leaked, I seem sealed the seams and sprayed it down with water proofing spray, then it all had to dry before I could pack it. The 3 days ended up being just enough time to get everything done!