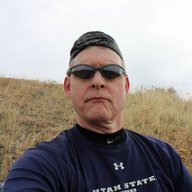 Joined

Dec 23, 2013
Messages

3,016
It's been a cold March thus far in SLC, but today the sun came out, and I think the high was 44 in the valley, and almost no wind to speak of. I'll take it.
This weekend's hike was to Pencil Point, which is a subpeak of Parley's Ridge. I haven't done this hike in ten years, and the first part of the route has changed. The put in a gated community where the old trailhead used to be, so they constructed a new segment of the Shoreline Trail to compensate. This added quite a bit of distance to the hike, but made it much more gradual, until you run into the intersection with the old trail, and that is when it gets steep. We ended up with quite a surprise once we got to the top. Here are some shots of our hike.
Up above the Subaru on the new section of the Bonneville Shoreline trail
The nasty spurge along the trail
The north slopes still have plenty of snow on them
Making our way along the shoreline trail
Switchback on a south slope
Killing the orange, with Jack's Mountain in the distance
Parley's Ridge above
Shot up an unnamed canyon, and Parley's Ridge
Pencil Point above
Me and Pencil Point
I'm guessing my shins aren't going to like the next segment
I might be cussing at this stage, but at least it will get me ready for
@Bob
's next horse trail.
Running into quite a bit of elk scat
Olympus to the south
This section is steep
Mountain Mahogany on the ridgeline
Grandeur Peak to the southwest
Looks like some folks are on the summit of Grandeur
Almost there
View from the summit looking east towards Pencil Peak #2 and Parley's Ridge
Go Aggies!
Getting ready to take some pictures of something from the summit.
The Parley's Ridge elk herd is down below. Sweet!
Some shots of the elk. I counted approximately 45 in the herd.
A look to the north at Jack's Mountain and beyond to Mount Wire, with Carrington Canyon below
Sheila, taking a picture of some moss on our way back down
Star moss
Pencil Peak and Jack's Mountain (R-L)
Back at the Sube
Four parasailers coming off Grandeur Peak after our visit to REI after our hike
On of the out of focus parasailers
We stopped by a grocery store on our way to get pizza. My wife had sent both our kids a shot of me during our hike, and they both responded, without communicating with one another that I looked like a traffic cone. So while in the store, I found the closet thing I could find to a traffic cone.
Twinners
@Rockskipper
?
Shot of Olympus from the store parking lot
Shot of Pencil Point from the pizza joint
We ended up getting a double bacon pizza with cheddar cheese. I loaded up my half with veggies as usual.
And to celebrate the elk herd sighting, I had a Big Bad Baptist Breakfast Baptist, which was quite good. I'll be bringing one of these up for
@TractorDoc
for our August trip in Jellystone and the Teton Wilderness.
Poured to perfection!
The End.
Last edited: