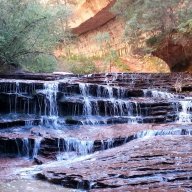 Joined

Dec 23, 2018
Messages

611
I have been hiking in Zion for over 25 years. Sometimes with friends, sometimes with family, and more recently alone. I've logged 100s of miles in and around the park. Besides blisters, the worse injury I ever had was when I sat too close a cactus and got a bunch of those near-invisible shards stuck in my leg and thigh.

I had lofty goals for my fall trip which included several big backcountry hikes. The pinnacle of which was to summit south guardian angel. I had first contemplated this route back in 2017 but for many reasons (getting lost, route being snow covered, etc.) I had yet to achieve it. I had finally found the correct descent route last year but waited until the 4th day of my trip to attempt and just didn't have enough gas left in the tank to complete it. I wasn't going to make that mistake again so it was to be first on my list.

The night of my arrival, it rained hard. I knew the left fork would be running full the next morning and the long descent would be muddy so I decided to push it back a couple of days. Now I had to come up with an alternative. I had never been to many pools but knew it was best after a rain so I decided that would be my first stop. I was also aware you could continue up canyon through the east root canal and reach the east rim plateau high above. I thought this would be worth exploring and, if successful, continue on to deertrap mountain as it had been many years since I was there.

The weather was still cloudy the next morning and the temps were in the low-mid 40s. I hit the trailhead about 7:15. I was the only one at the little pullout. Sure enough, water was flowing through the wash and many of the pockets were full of water. I told my self I would take pictures on the return.

I continued on above the end of the many pools trail and into the east root canal. Following the wash bottom, I came upon and bypassed several small drop offs. Soon a low angle shoulder of slickrock to the hikers right presented itself. This seems to be a Zion norm. I thought this may allow me to bypass some of the bushwhacking so I took it. The route was class 2-3 as it gently rose about 40-50 feet above the wash bottom and I even saw a couple of cairns that led me to believe I was on the correct path. I would later learn the right shoulder eventually cliffs out so whoever said " if you are on the right path, it will always be uphill" was full of crap. Anyway I was about a half-mile up the shoulder and was traversing what looked to be an innocuous piece of slickrock when my right foot slipped. I begin to slide down a gentle angle. I recall looking around to see if I could grab a root, branch, or something to arrest my fall. There were none. The gentle angle quickly became steeper and steeper and my slide accelerated. It was right at this moment I knew this might be bad. Somehow I kept my composure and remained vertical in my slide with both hands palming the rock face. Fortunately I was wearing a good pair of gloves. I was able to look over my shoulder as I slid. At first I could not see the bottom and that really worried me. I'm certain the slide only lasted a few seconds but it seemed to take forever. As the slope got steeper, I could now see the approaching wash bottom and I recall telling myself to bend my legs right before impacting the rocks.

I was moving pretty fast at the bottom and the landing was a hard jolt I felt through both my legs. No luck with sand or loose dirt, the bottom was all rock. My first thought was OK, I'm still alive. After that, I looked for blood and didn't see any. Next, I did a quick body check. head, back, neck, arms -ok. My right leg and foot really hurt but I could bend the knee and wiggle the ankle. My left leg was completely limp. I tried to grab some tree branches and stand up but it wasn't happening . The pain was not my friend, nor ally, but it did let me know I was not dead yet (line from GI Jane). I quickly realized I wasn't getting out on my own. I grabbed my cell phone from my backpack – no service as I suspected. I grabbed my PLB, crawled a few feet to an open space, and pushed the button. It was about 9:00 a.m.

The next several hours were difficult. When your hiking, your body generates so much heat that you want cooler temperatures. You don't really don't want that when your lying immobile in the wash. My body cooled very quickly and I soon found myself shivering uncontrollably. I had three layers of clothes on, gloves, and a toboggan but it didn't seem to be helping much. I also had an emergency bivvy blanket in my backpack. Wrapped up under a tree not knowing how long it would be before help arrived, my mind began to wonder : how long does it take for hypothermia to set in? would I be spending the night out here? could I set up a make shift camp? could I actually die? I did a scan of my surroundings and identified a tree I might be able to construct a lean to from with my bivvy blanket. Most of the vegetation was damp but I figured I could get the pineneedles to burn, if needed. I had come up with a emergency plan just in case but told myself I wouldn't panic unless help hadn't arrived by mid-afternoon. My wife knew exactly where I was going and I'd even given her a map of the route. She had the Zion emergency dispatch number and knew to call if I hadn't checked in by late afternoon.

About every 15 minutes, I would blow my whistle a couple of times just in case some hiker in the many pools area was close enough to hear. The only sounds I would hear for the next two hours were the wind, and the occasional birds overhead

The first two SAR rangers arrived about 11:00 a.m. They told me they were sent first as they were the fastest hikers but others were prepping for response based on the situation. My PLB only sent a signal so they had no idea whether I was alive or dead or just lost. They assessed the situation, made me more comfortable with heavy jackets and gloves, and radioed back for a medic. While we waited, we shared stories about our love for Zion, where each of us was from, and other SAR rescues. I learned some fascinating details about the 79 year old hiker rescued a few weeks prior above lodge canyon. I also learned that most of the guys (and gals) were only seasonal employees of the park. Apparently full-time ranger positions are few and far between with hundreds of hours of actual training required before you can even become eligible. Most of the SAR team that rescued me were either in their last week of employment for the season or were already done and just hanging around town until their next job started.

An hour or so later the medics arrived . One of the two medics was actually an orthopedic surgeon. I'm sure he was a volunteer. He checked me over and said I probably had a tibial plateau fracture. They put me in an air cast and gave me some pain meds. The meds seemed to help a little.

More SAR personnel began to arrive and the discussions began about whether to try and carry me out or airlift me from the location. They debated for some time but the airlift option won out. Now they had to get me to a location the helicopter could get to. So they identified a nearby spot up on the shoulder I had come across earlier in the day. The only problems were: I had to "walk" about a hundred feet down wash to a clearing, and they had to somehow get me up the shoulder. I had a ranger under each arm as we slowly moved toward the clearing. My "good leg" was really hurting at this point and I remember feeling like I was going to throw up. While this was going on, I believe there were probably 6-8 rangers constructing a pretty elaborate pulley system to get me up the slope. I cannot overstate how organized and professional these folks were during the lifting operation. They strapped me flat on my back in a metal basket and hoisted me back up the shoulder. The helicopter had been dispatched from the grand canyon. It was only a 45 minute flight so it had arrived and was parked at the east entrance. It was now getting later in the afternoon and the gentle breezes seemed to be getting stronger. I heard the team leaders discussing whether it was going to be too windy for the helicopter. I began to dread the idea of a night in a sleeping bag.

A few minutes later, one of the rangers came over to me and said the airlift was a go. They were going to fly me to the east entrance where an ambulance was waiting. I was both happy and a little nervous. Happy I would be getting out of the cold and wind. Nervous because instead of flying in the helicopter, I would be hanging on a cable beneath it. They had taken me out of the basket and were now putting me in a "screamer" jacket . The name really needs no explanation. I likened it to an heavy duty webbed blanket with a bunch of hooks. The ranger explained they didn't like using the basket for airlifts, unless necessary, because it tended to spin a lot in the air. That was A OK with me as I was not looking to get nauseous on top of a having broken leg. Once I was loaded up and ready, the lead ranger evacuated the area. All of the other SAR personnel had moved well away from the landing area and it was just me and him. I thanked as many as I could and gave the thumbs up to the rest of them.

It wasn't long before I heard the familiar sound of a helicopter. As it drew closer, the sound got louder and louder, amplified by the canyon walls. By the time it was hovering overhead, it sounded almost like a jet engine.

I looked up to see them lowering a medic attached to a cable towards our location. He seemed to sway pretty dramatically as he got closer to us. One minute he was behind me, the next he was to the left, the next he was in front of me. As soon as he had stable footing, he unclipped and came over the me. He didn't waste any time. He and the SAR ranger double checked all the carabiners, clipped himself back in, then me, and before I knew it, we were heading up into the sky. I had one hand on the cable, one hand on the medic's belt, and my injured leg just hung in the air cast. As we rose, we began to spin a little and I worried it would get worse. Fortunately, we began to move forward (south) towards the park road and the spinning stopped. We were now above the plateau of the east rim (probably 1,000 feet above the canyon floor) and all the major peaks on the east side of the park were visible. I wasn't feeling particularly well but I tried to look around as I knew this was a view of the park very few ever saw.. We proceeded down canyon until we intersected the main road, then veered east following it to the east entrance. The whole flight probably lasted 5-7 minutes.

As we drew closer to the entrance, I could see a back up of cars heading east. They had closed the park road because they were going to set me down in the middle of it. I was pretty windy but could hear the medic calling out distance to the pilot, 50, 40, 30, 20, 10. We were twisting a little as we descended and I could now see back ups in both direction on the main road. I could also see dozens of people with cameras taking pictures and video of me. I was now famous (ha)! I mean really, how often do you see a helicopter rescue up close?

We landed right in the middle of the road, first the ranger unclipped, then me, as the helicopter began to rise off. An ambulance was waiting. I'm not sure why but it took them a bit to get me in the ambulance. Probably had to complete some paperwork. I remember one of the rangers coming over and telling the medics he really needed to reopen the road.

Anyhow, they did get me in the ambulance and took me to St George regional medical center. It was about an hour ride and it was now about 5:30 p.m. (rush hour) I finally had cell service so I was able to call my wife. She had been notified when I activated my beacon but it was a couple of hours before Zion dispatch could give her any updates. I know those few hours were hell for her.

They took me into emergency and surprisingly, I saw the ER doctor pretty quickly. He did scans and x-rays, and within a short time came in to deliver the news. I had two fractures of the tibial plateau and a torn tibia ligament. I chuckled as I told him the SAR medic already guessed the injury in the field. Later I would see the x-rays and the big chunk of bone that just "popped off" the top of the tibia.

They admitted me that evening and I had surgery about 9:00 the next morning. The doctor said no weight bearing for six weeks, then a couple of months of therapy. Now I have a plate and 10 screws as a permanent reminder of my adventure. The following day I was released from the hospital. Two days later, I was able to fly home to NC on my originally scheduled return flight.

Seven weeks later, my recovery has gone about as well as can be expected. The first two weeks, I basically lived on the couch and used a walker as my other foot was still pretty banged up. The doctor recently ok'd me to start putting weight on it. These days I am walking around fairly well with crutches although I don't really go anywhere except to physical therapy. My goal is to return to the Zion area in late March 2022 ( this trip was planned months before my fall accident). I may have to adjust the scale and difficulty of my hikes for a while but this event hasn't dampened my desire for the outdoors in the slightest.

I have found that writing about this whole event has been therapeutic. I know that I am very, very fortunate to have only sustained a broken leg for a fall from that height. I know that my wife and daughter have taken really good care of me during my recovery and we have become closer. I know that my trip preparation paid off although my wife demands I get an inreach now instead of just the PLB. I can appreciate that now knowing those first few hours were torture for her as she knew nothing other than I had activated my beacon. I won't be surprised if there's one under the tree on Christmas morning!