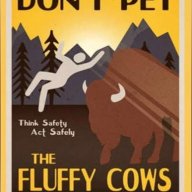 Joined

Mar 3, 2013
Messages

3,976
Bob submitted a new resource:
Little Colorado River Gorge
- Hke into the Little Colorado River gorge into the Grand Canyon
Not really a track but waypoints. Can't get lost on this canyon hike. We did this in 1999 before it was 'known'. Logistics are difficult. Some parts need the 'stealth' mode. Entire trip was about 88 miles. Actually 8 days as we camped on top before the return home. Probably the BEST canyon hike anywhere. Quicksand, large pools, solitude, wildlife, sand, house sized boulders, azure blue water, travertine waterfalls. We took cheap one man rafts and floated the water sections. Part on...
Read more about this resource...