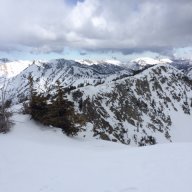 Joined

Mar 1, 2012
Messages

106
First off, if this post is against the rules of the forum feel free to lock it or delete it, but I personally think land issues are important to anyone who enjoys outdoor recreation in this state. And I wonder what people on this forum think about this issue.
http://www.ksl.com/?nid=960&sid=195...shop-pta-in-public-land-control&s_cid=queue-3
I am sure we have all heard about the legislature's most recent attempt to take control of public lands, and it looks like it is gaining steam outside of the hill. While I still think (and hope) it is doomed to fail I can't help but get a little nervous at what would happen if we have a president with close Utah ties, who already stated he thought the federal government "owned" too much land. Quite frankly I have zero trust in the state to manage the land in a way that would benefit every one equally, and ensure that all Americans have access to what I consider our birthright. As a flyfisherman I have already seen what the state did to our river access, and though I don't hunt, from what I understand Don Peay and SFW are doing everything they can to turn the West into a private hunting reserve, even at one point saying that all the public land in this country is a form of socialism and needs to be rethought.
Obviously I disagree and believe one of this country's greatest assets is the ability of all citizens to go out and enjoy wilderness as opposed to just a few select land owners. I go to Eastern KY every year to visit family and they live right in the heart of Appalachia and I have to drive over an hour to find any type of hiking that isn't on perfectly groomed trails inside a State Resort Park, because everything is in private hands. I would hate to see Utah take any steps in this direction. Think over all of your recent and future trips, and realize just how many of those acres are inside federal lands.
PS: If this thread does indeed break rules, maybe before deleting it we can see if we can have a good civil discussion.