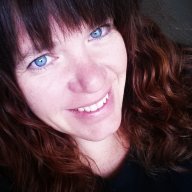 Joined

Jan 17, 2012
Messages

1,109
Okay lucky me...another hike I have been dying to do checked off before the move. Doing this report by phone is no fun and will be short and sweet. I am a bit out of shape and that added to the degree of difficulty but this is the most technical hike I have ever done. I am exhausted tonight! Lots of scrambling up only way I can describe this hike is a skiny barely room for one foot stair master on double dose of steroids...once your at the top...yes knees you must come down. My legs haven't stopped shaking yet. Absolutely worth the punishment and the few oh shit I need a little extra help moments. Enjoy the pictures.
Louis, Me, Everett
These little formations were on the top.
**BONUS FOOTAGE**
A couple weeks back a friend I often ride mountain bikes with was in town. Usually when he comes he flies his plane down he has been trying to get me to go for the last four years but I hate to fly. Well....I braved it.
One of my most favorite adventure buddies! And favorite daughter.
And here we are over Zion! We also flew over Snow Canyon.
I have always wanted to stand on top of West Temple. I see it every morning I drive to work. We actually flew right over the top! Probably the closest I will ever come and I will be happy with that!
I leave you with my parting shot of Zion...I have played in main Zion, in her depths and crossed the tops of her many peaks. What an amazing experience I have had down here. I will be back from time to time. Many many good memories shared with some of the best people I know!
Sent from my SCH-I545 using Tapatalk
Last edited: