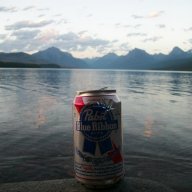 Joined

Apr 1, 2014
Messages

878
This is the 2nd part of my trip report into the Moose Basin area of Grand Teton National Park. You can read the first part of it here:
http://backcountrypost.com/threads/...alus-lake-doane-peak-ranger-peak-part-1.4269/
You can see my entire route here:
http://caltopo.com/map?id=0C1G
I pick things up on day 3. After climbing up Glacier Peak, and crossing through the lakes below, I started off towards the Talus Lake drainage.
Looking back at Glacier Peak and the upper lake as I head east:
Looking out at Moose Basin and another unnamed lake:
Looking up at Rolling Thunder Mountain: My route is to follow the snow along the base of the mountain going left:
Lots of snowfields to cross:
Looking back at where I was hiking from:
There was one section that was a little steep, otherwise it was fairly easy walking:
Soon I had my first view into the Talus Lake drainage. It's correct name is the North Fork of Snowshoe Canyon:
I glissaded down to the lakes:
In this next picture, you can see a rocky nob or hill rising up center of the picture. I set up my tent on top of that:
Looking back up where I came from:
I had my first view of Talus Lake. The view is better from the base of it. Here you can see the route I'm heading the next day. I will go up to the saddle from the base of the lake, and then make my way up and around to Doane Peak, which is barely rising above the mountains to the right:
There are several lakes in this area. Here is a view looking down on one below/behind where I camped:
Day 4 route:
Some views of my tent at camp:
Some more of the lakes around camp:
This is looking down Snowshoe Canyon, and out at Jackson Lake:
I made my way down to Talus Lake:
I climbed up to a pass, where I had great views of Moose Basin again:
One last look down Snowshoe Canyon:
I worked my way along the open slopes towards Doane Lake:
Doane Lake is pretty:
I have no idea if the lake is actually called Doane Lake. I just named it that because Doane Peak rises above it. In this picture you can see my route up Doane Peak, I just followed the steep ridge on the left side up:
Of course, getting around Doane on the south side was a little tricky. Steep snow slopes right into the water:
Looking up at Doane:
Here is where I started climbing the ridge up:
It was a steep scramble up to the top. Before I got there, I reached this long ridge that runs north. I 'm heading this way next. Ranger Peak is the tall point to the right. I'll be going up that one in a little bit:
But first I had to get to the top of Doane Peak. When I did, the views were pretty cool:
This is looking down on Doane Lake, where I just came up from. Glacier Peak is the far mountain to the left hand side:
This is a fuzzy picture, but that is Jackson Lake, with the Teton Wilderness in the background:
This is looking north towards Ranger Peak. Waterfalls Canyon is below it:
Looking south east along the ridgeline towards Eagles Rest Peak. I would like to go back and walk out there some day:
Looking south towards Mt Moran:
Looking south west at some of what I had just traversed:
Next I started following the ridge north towards Ranger Peak. Here is a view looking down at the big lake in Waterfalls Canyon:
Next I dropped down into the basin. I'm heading up the snow to the right, towards the saddle. I'll scramble up Ranger Peak (out of the picture to the right) from there:
The snow made it easy going down:
One more view looking down Waterfalls Canyon. Jackson Lake in the background:
I stumbled past another beautiful lake up high:
Looking back where I just came from. Doane Peak is in the center of the picture:
Just about to the top of the peak:
At the top of Ranger Peak, looking south:
Looking out at Jackson Lake:
Looking due north:
Me at the top, with Moran and the Grand above my head:
One last look at Doane Peak and the basin I just came from:
Looking down on Coulter Canyon:
Next up I'm heading over to this ridge:
I dropped back down to the saddle, and headed over to the ridge that separates Moose Basin from Coulter Canyon. These pictures are looking back up at Ranger Peak:
Heading towards this ridge:
Looking down Coulter Canyon:
The ridge line between Coulter Canyon and Moose Basin is a spectacular walk. My pictures won't do it justice. But the views in all directions are phenomenal. I walked it north. Not very many people ever get up here:
Looking back where I am coming from:
Looking across Moose Basin towards Glacier Peak:
More views of the ridge:
Looking down on another fork of Coulter Canyon, and an un named lake. Jackson Lake and the Teton Wilderness in the background:
Towards the end of the ridge. This canyon drains into Webb Canyon:
Looking out at Moose Basin, as the evening winds down:
It was time to start dropping down into Moose Basin. Looking down at my route:
It was getting dark, and I needed to find a campsite. It was steeper than I realized. No camping here:
Now here is where the story gets interesting. I had hiked late into the evening. In need of a campsite, the terrain was too steep to camp. So I kept dropping and dropping. And it was getting darker and darker. I didn't want to hike in the dark, so I rushed down the hill side, somewhat out of control. While walking above a ravine, I fell straight down about 50 feet, completely out of control of my body. I stopped just before hitting the small creek running in the ravine. I was pretty lucky to not get seriously hurt. Most of my backside was bruised, and quite a bit of skin was torn of my back legs and butt. Blood was running down my legs.
I headed down the ravine, bush whacking down the creek. The terrain finally started opening up just as it got dark. But the woods were thick with trees and underbrush, and on top of that there was a bunch of downfall. It was hard to move, much less hike. I could here Moose Creek close by, which runs down Webb Canyon. There is a trail on the other side of the creek. I put my headlamp on, started crawling over trees, and eventually made my way to the river. I ate a quick dinner in the dark, and then set off to find a place to pitch my tent.
I knew this was thick bear country, so I didn't really want to be right next to the creek. It was running pretty loud. I also wasn't too trusting of the trees, since there were snags everywhere. I spent about 30 minutes looking for a flat spot I felt comfortable with. I finally found a spot, and took one last look around to make sure it was okay.
As I was scanning the area with my headlamp, I noticed a bright light reflecting back at me maybe 40 feet away. It took me a second to realize this. Confused, I shined my light back on it. My first thought was that someone else was out here with a headlamp on. No, that wasn't possible. I wasn't even on trail. I knew it was an animal. I shouted out "go on now". The animal swiveled it's head. Not only was there now a "set" of eyes, but also the outline of a large grizzly bear. He had been sitting there watching me. Then he stood up on all fours.
I know it was a grizzly because of the shape of it's head, the shape of its body, and because of the sounds it made. His head was huge. He immediately beginning huffing when I shouted out. He started to circle around me, staying about 40 feet away. He continued huffing as he moved, breaking large branches. I was talking loudly, and already had my bear spray out. It was hard to follow him because of the thick downfall. He never charged. He just kept walking around me.
So time to set up camp. Sike! What do you do in this situation. I wasn't sure. There weren't any good trees to climb, but there where 2 close enough together that I could maybe get up. So I shimmied up between these trees about 15 feet to a few branches that I could hold on to. Now, the bear could have reached me if he wanted to. But at least from this angle I could see him coming, and spray him. I would not have been able to see him coming until he was on me from down in the brush.
The bear continued to huff his way around. He wasn't being quiet, I don't think he was happy I was there. I figure he was most likely surprised to see me there. I wonder how long he had been watching me to begin with. I caught a few more glimpses of him over the next few minutes. I continued to hear him for about an hour.
Meanwhile, tree life wasn't comfortable. I was holding onto branches to stay up in the tree. There was no sitting comfortably. I would take turns changing my position and hand holds. Eventually the adrenaline started wearing off, and I remembered that my legs were still dripping with blood and in pain. And then it got chilly. I remember looking up into the sky at the stars while in the tree. I could still hear the bear moving around. I though about all the people I knew, and wondered what they were doing. I pictured them all comfortably in their beds. I doubt any of them remember that night. I, however, will never forget mine.
I have to say that In that moment I felt truly alive. It was the most alive I've ever felt. I wasn't nervous, or in fear for my life. I remember laughing a little, and thinking to myself, this is living. This is adventure.
After a few hours, I was too tired to hold onto the tree branches anymore. I shimmied back down, and set my tent up in thick downfall. I hadn't heard the bear in a while. Somehow, I slept really good.
My tent the next morning:
The tree's I shimmied up. I guess its more like one tree with a split:
Day 5's route:
I could barely walk in the morning. I set off to ford Moose Creek, which was running swift. I had trouble crossing it. Eventually I found a log to walk across, and was able to find the trail on the other side:
It's a long hike down Webb Canyon. Mostly wooded, several small waterfalls, and some fire burn:
The patrol cabin by Jackson Lake:
I finished up the last few miles through the meadows:
The end.
Featured image for home page: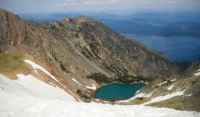 Last edited: