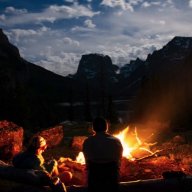 Joined

May 3, 2018
Messages

288
Hello,
This trip was in mid-july, for some reason I never worked on it till now. I started at the Bridge Creek TH and worked my way up a very primitive trail toward Copper Pass in the North Cascades along WA20.
It got steep really fast after a small stream crossing which bridges off of the PCT. There were tons of blow downs at very steep areas making it kinda sketchy. I hit the meadows pretty fast and all the fun started. Stilleto Peak looked mighty and demanded respect to the valley below it. A mile into them meadows I saw a groggy black bear!
From there I made it to the top of the Copper Creek headwaters to mess around before heading back down to Copper Pass. It started to hail/snow but not too heavily. I put the camera away at that point because it's too expensive for me to keep it out in those conditions lol.
I worked my way down Copper Pass and hugged the Early Winters Spires @ 5800 feet bearing NE to loop around and up toward Kangaroo Temple Pass area. This off trail route actually was pretty easy, I was moving pretty quick because the snow/hail wasn't fun and it kept getting in my ears. From there I just dropped down the Kangaroo drainage toward WA-20, on the way down the snow stopped and the sun came out and made everything muggy as s***. I got on WA20 and stopped at the Washington Pass overlook before busting hard back to my car at the Bridge Creek TH. I thought about trying to hitchhike but I didn't wanna get murdered.
13.71 Miles
Elevation Gain: 2300~2500ft.
Net Gain: 3900~4000ft.