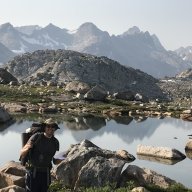 Joined

Mar 1, 2015
Messages

454
Ahhh, everyone's favorite topic... carrying out your poop. I have an upcoming trip in the Needles district, where they now require you to carry out your waste in certain camping areas. I am in favor of such requirements when necessary, but I am a little worried that it might be daunting for the group I am going with (in particular, one person in the group has never been backpacking before). Most of my backpacking has been in the mountains, where burying your stuff is acceptable, so I have a few questions:

1. WAG bags---does anyone have a favorite brand? Do these stink? We will have 5 peoples' worth for several days, so I want to minimize the stench if possible. Also, if any brands make it easier to get everything into the bag, that is of course preferred as well.

2. Hauling out the WAG bags---what method works best, both to minimize the smell and to minimize the chance of disaster? I'm guessing people just put the WAG bags in a strong outer bag and tie it to the outside of their pack? I can't really envision what would work best here. I've read of climbers using a pvc pipe contraption but didn't know if backpackers use such approaches.

3. On a tangent, I will be hiking Lower Death Hollow (BMT to HWY12 bridge) in May, and was wondering if I should plan on packing out my poop there too. As far as I know it's not officially required, but I don't know if there are good opportunities to bury your waste near the campsites in the canyon or not (since I've never been there before), so I want to do what's right here (even though my group of four on that trip will include some new people as well). Any feedback is appreciated (although I may have to later start a new thread about this if the Death Hollow experts don't notice this thread).

Thanks in advance for your tips on this exciting topic!
Last edited: