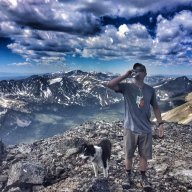 Joined

Oct 12, 2015
Messages

363
Hi all - I'm considering a trip to the Winds this summer and wondering if anyone has done a similar trip, or if we are being a bit too ambitious with our plans.

Due to work and family obligations, my hiking partner and I are only able to get 4 days, at most, for this trip. I'd love to make it to the Titcomb Basin, even though I know it is going to be crowded.

Right now, the itinerary is looking something like this:

Day 1: Elkhart Park TH to Titcomb Basin. (~15.5 miles)
Day 2: Summit Freemont Peak, explore Titcomb Basin (And Indian Basin if time allows)
Day 3: Titcomb Basin to Peak Lake via Knapsack Col, then catch Highline Trail to camp at Upper Jean Lake (~10.5 miles)
Day 4: Upper Jean Lake back to Elkhart Park TH (~15 miles)

Has anyone done this loop before, and if so how long did you take? I am wondering if we need to cut out the loop part of it, and instead just do an out-and-back into Titcomb Basin. We've done 15+ mile days before in Glacier and other parts of Montana, but with this being my first time to the Winds I'm not sure if 4 days is going to be enough time.

Any suggestions/comments?