After spending the previous two days at White Pocket and Coyote Buttes South, I was feeling a little overwhelmed. Everything was just too photogenic! It's still hard to comprehend the beauty that this small area of the desert holds.
To be honest, after doing White Pocket and Coyote Buttes South, I wasn't as excited as I should have been about going to Coyote Buttes North and The Wave. I had been there before in December 2010 and while it was a really great trip, I kept thinking that I liked CBS and White Pocket better. Part of me wanted to go explore into Buckskin Gulch but these permits are nearly impossible to come by and I had two friends who were really excited to get out there, so on we went.
We had to drive back this day so we decided for a true photographer's start to the day. After camping a few miles south of the Wire Pass Trailhead, we were packed and on our way well before the sun. We were the first car in the lot that day and after double checking for batteries and memory cards, we set out under the still black night sky. It was easy hiking in the dark for the first part of the trail. We followed the path until it dropped us into the wash bottom. I was a little worried about missing the trail where it exits out of the wash but there was just enough light and a conveniently placed sign to let us know we were in the right place. We kept moving up and over the first steep hill, down the next and up to the top of the slick rock pass that offers the first grand views of the slick rock formations that dot the Coyote Buttes area. This is the first shot I took there. For the photogs out there, this is at ISO 1600 just to get that little amount of light.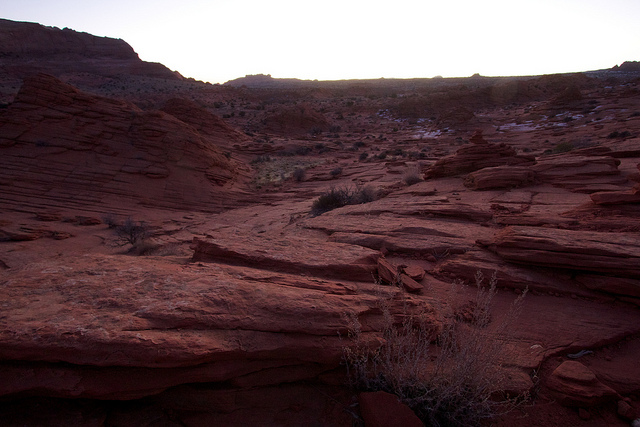 It was still quite dark but bright enough to put away the headlamps and get out the camera. This next section of the 'trail' would be difficult in the dark. There is no more path to follow, just landmarks and the occasional cairn.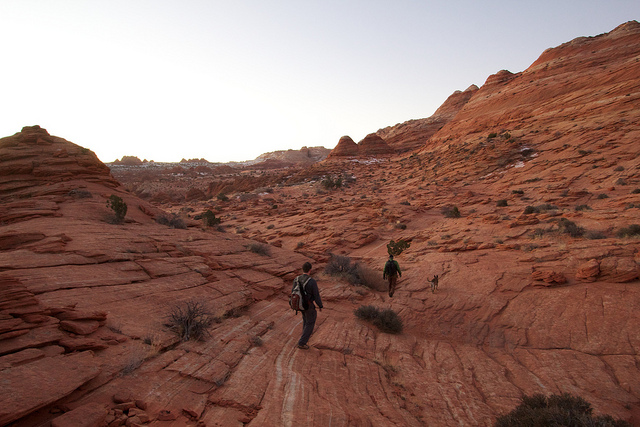 It was such an awesome feeling hiking that morning. Being the first people out there, seeing the sky get brighter as we put one foot in front of the other. When we were getting close to The Wave, the sun finally peaked over the horizon and gave us a bit of a show on the rocks.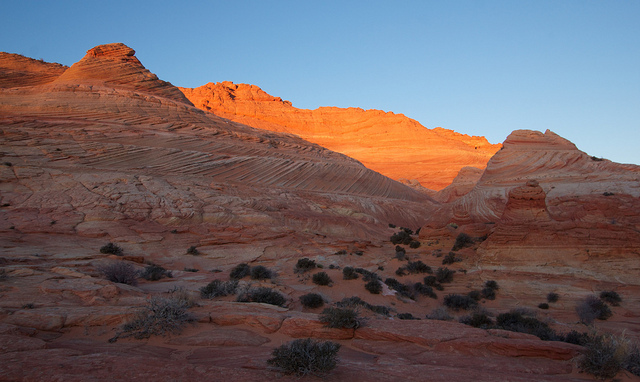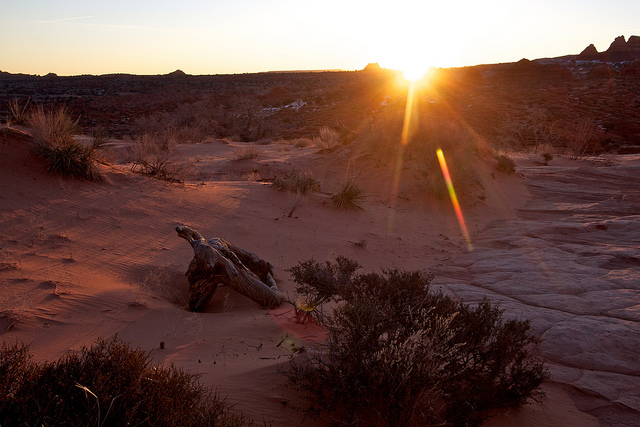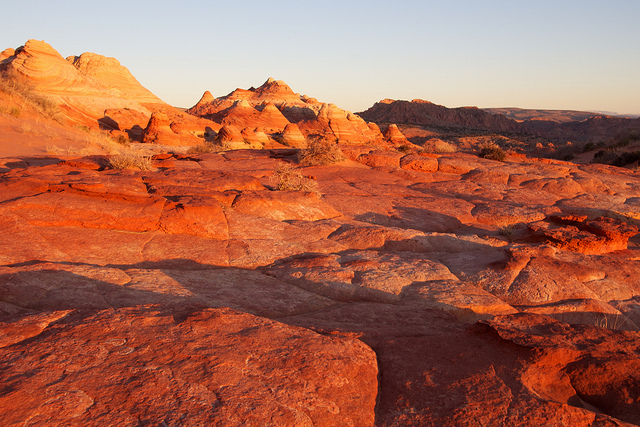 After a few photos, we kept on hiking towards The Wave. When we arrived, it was still very much in the shadows. There are high ridges to the east, west and south of The Wave. It's hard to imagine it sees any full light this time of the year and probably never gets any prime morning or evening light. Despite the cool light, we all got out the tripods and started shooting.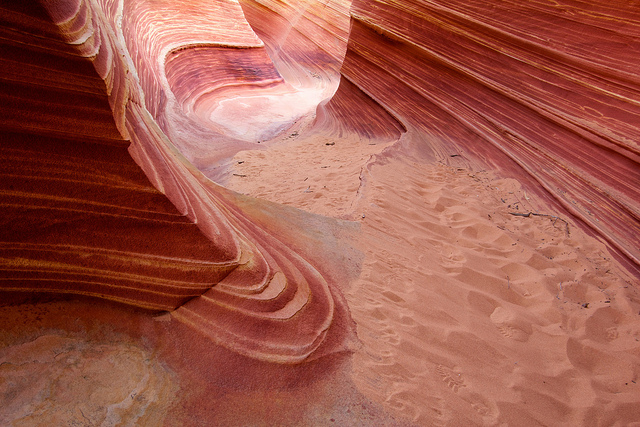 A self portrait of myself and Nikita.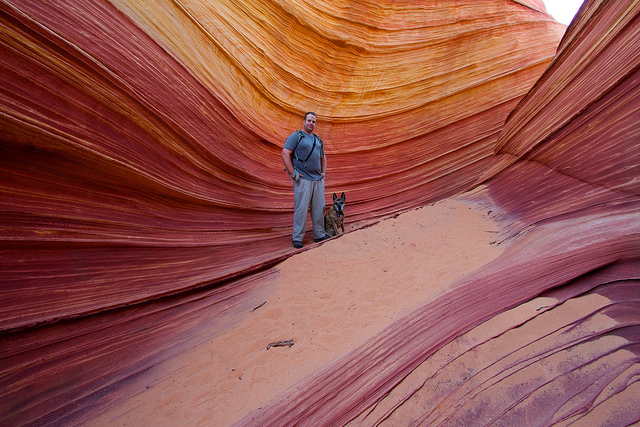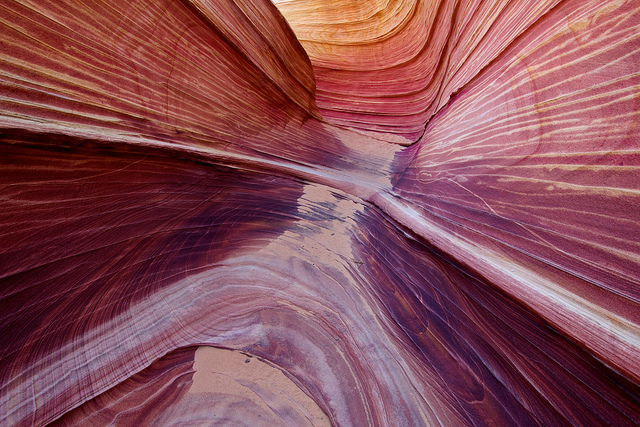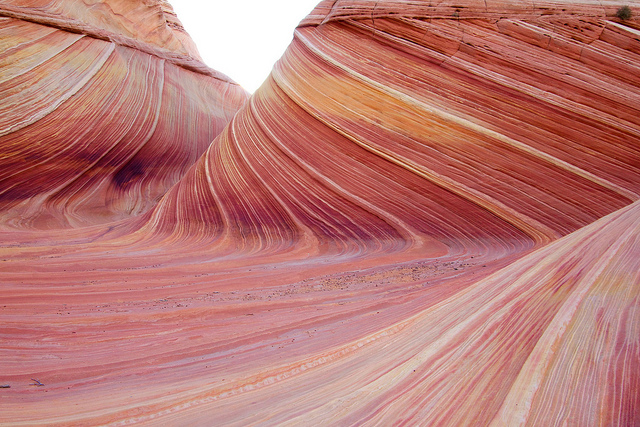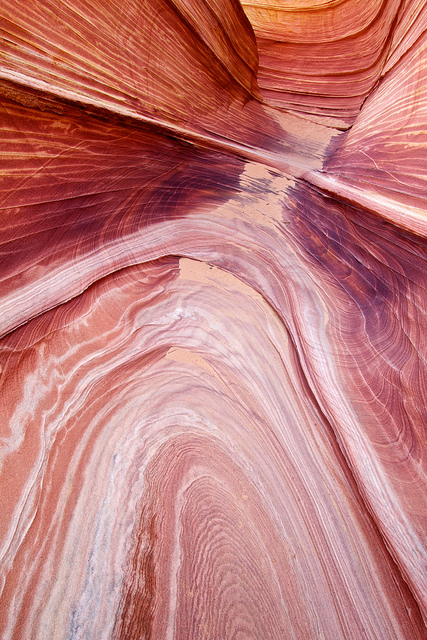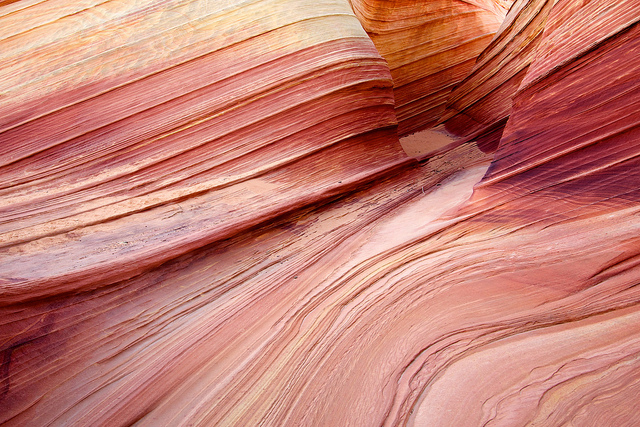 Nilauro and Nick kept shooting and I decided to hike up and see what things were looking like above The Wave. Last time I was here there were some awesome pools that made great reflections. This time it was mostly dry except a few small spots that were all iced over.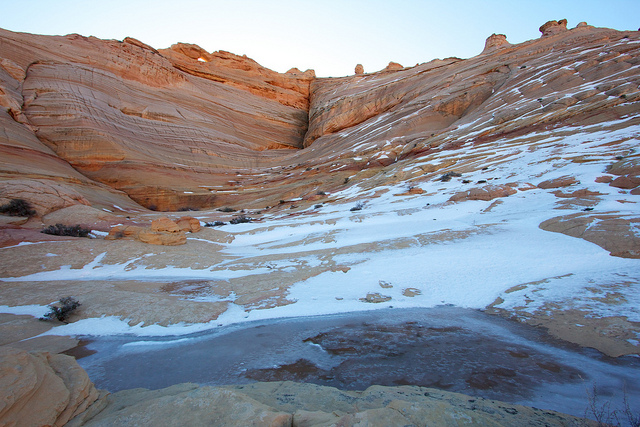 From there I walked north of The Wave, somewhere I didn't explore on my last trip. There wasn't anything particularly interesting up that way except a spot where I was able to soak up some early morning sun for a few minutes and get a nice view of all the teepees to the north.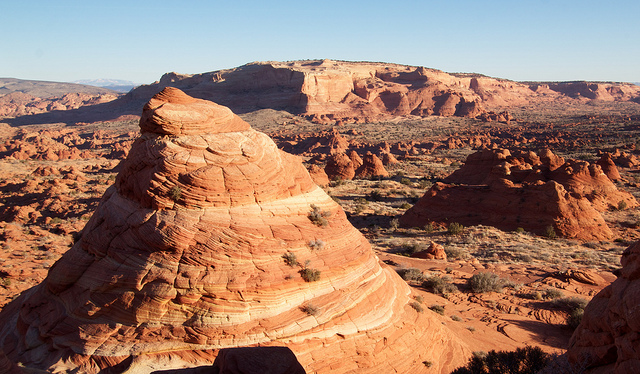 I figured Nilauro and Nick were wondering what happened to me so I eventually made my way back and they were no where to be found. Thinking they must have made their way towards Sand Cove I decided to do the same. Eventually I spotted them, still down at The Wave but out of sight from my previous position. So I moved onto the formation known as The Second Wave while they finished up.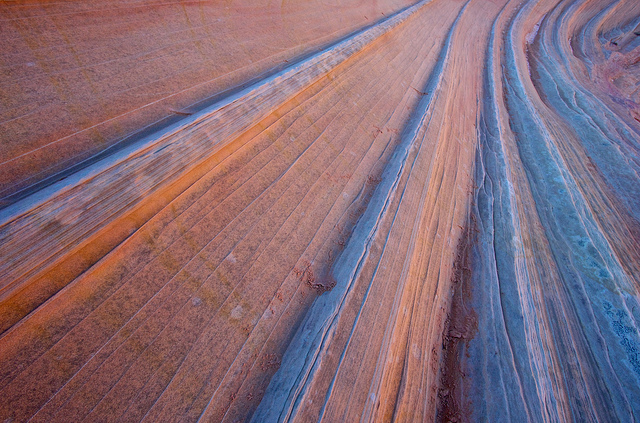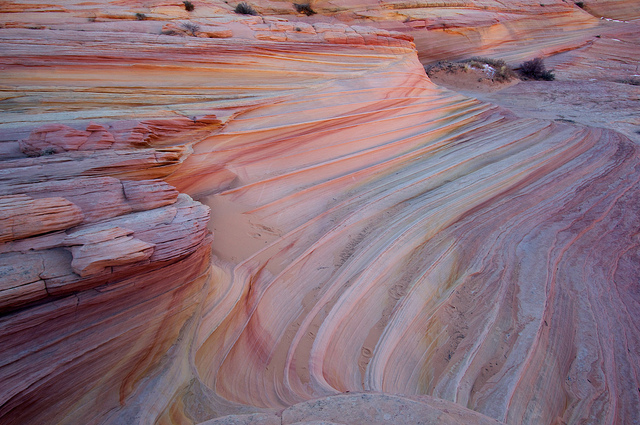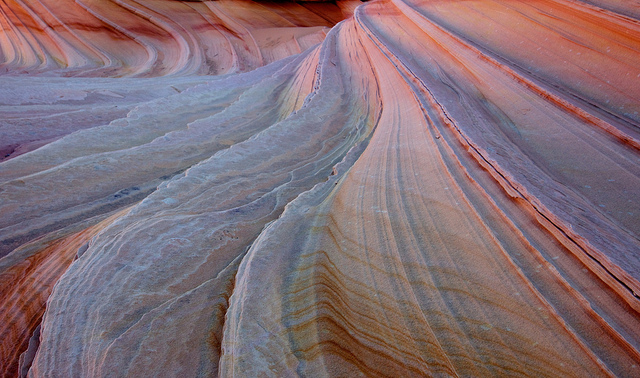 Nilauro getting some shots at Second Wave.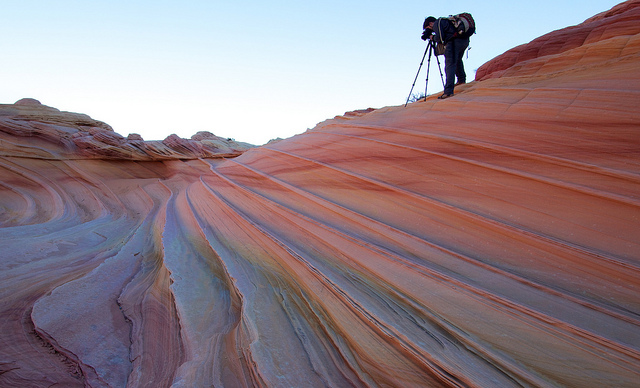 Next we made out way into Sand Cove. It seems only a small fraction of the folks that go to The Wave make it to this section of Coyote Buttes North. There is a tiny bit of difficulty getting in and out of it if you made it this far, it's no big deal.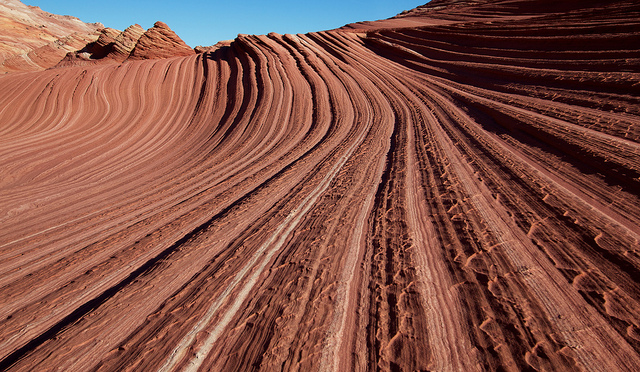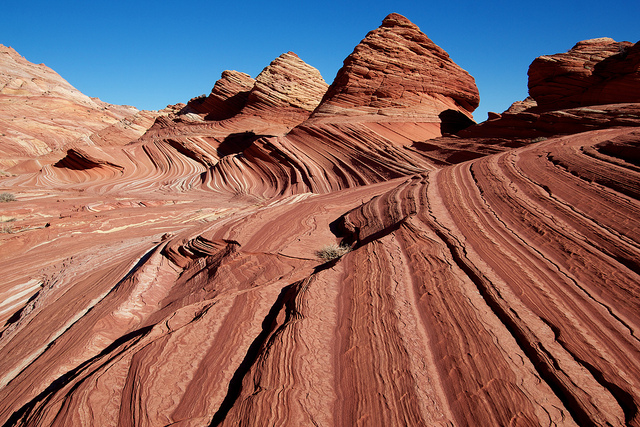 Sand Cove is littered with these extremely unique boulders. I've heard them called 'Boxwork Boulders' but otherwise know nothing about them. They seem completely out of place with the rest of the landscape.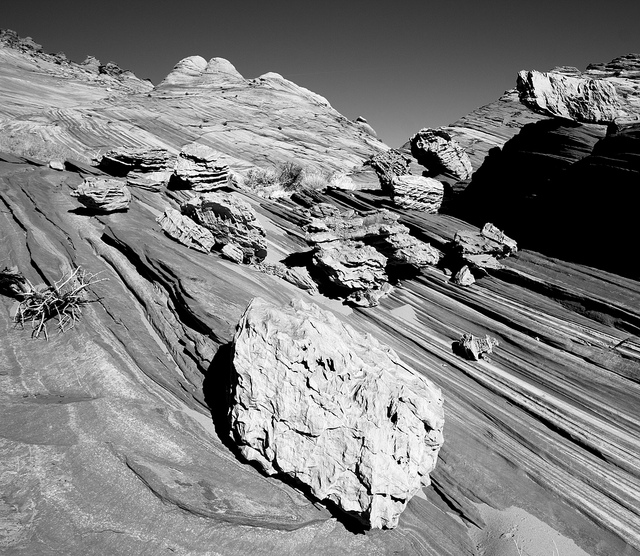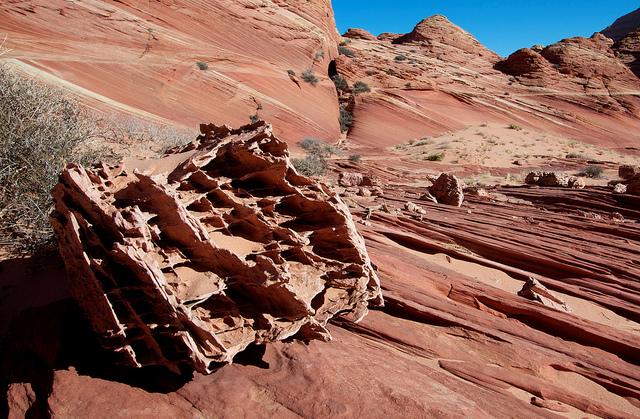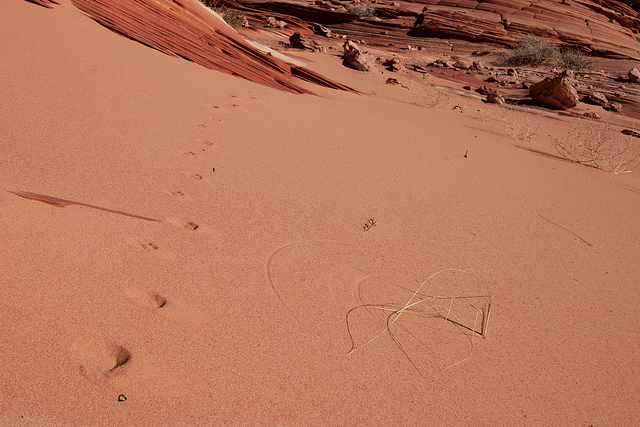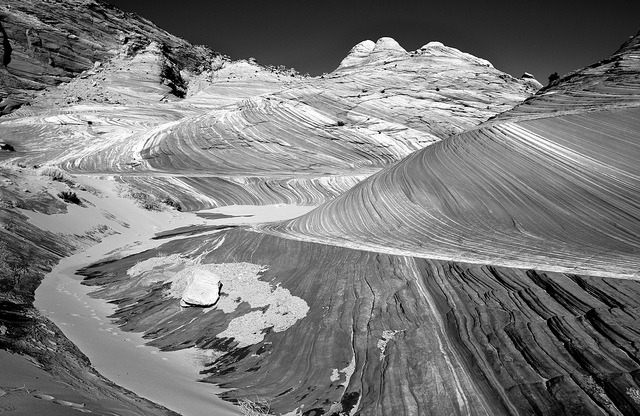 We continued down the slot below Sand Cove and ended up at the bottom of the big hill to The Wave. Roughly the same route I took last time but in reverse. It would have been nice to head back up to The Wave and see if we had better light but it was time to leave. We booked it back to the trailhead and made it back to Salt Lake by 7pm that night. Hell of a way to start 2012.
If you found this trip report useful or entertaining, do me a favor and click the like button below.

View the full set of photos on Flickr. There should be a lot more coming as I get to them over the next few months.
See more of my trip reports to the Vermilion Cliffs National Monument.
Do you have questions or comments about this or any of my trip reports? Say something in the comments below or email me through my contact form.
Like my website? Follow me on Facebook and get updates in your News Feed whenever I post a new trip report.