I was fortunate to get out on a short backpacking trip with Bill and his son, Lanik, over the weekend. For those that don't know, I've been picking away at a college degree over the last 5 years. And finally, after countless night and online classes I'm almost DONE (last class ever on 8/3! woohoo!). Due to some other things I had going on I was able to reschedule my last final for the day before this trip leaving me with nothing but a class presentation for finals week, clearing the way for some play time in the Uintas!
The route we decided on is a point-to-point that starts at the Bald Mountain trailhead at 10,768 and ends at the Crystal Lake Trailhead at a little over 10,071 feet. What's misleading about that is that the trail drops all way way down to about 9700 before heading up to Ibantik at 10,110′ and then up over Notch Pass at 10,631. Not exactly a small amount of elevation loss and gain but surprisingly easy. The steepest section is the final descent to the drainage that holds Ibantik before heading back up towards the lake. The rest was very pleasant and easy. My GPS recorded 9.65 from beginning to end excluding a bit of day hiking we did around Ibantik. Here is an interactive topo of the route with my GPS tracks.

View
Ibantik Lake Map
full sized in a new window.
The hike from Bald Mountain to Notch Lake was great. An easy trail that just gradually descends all the way there. There were still some nice pockets of snow around which Nikita was quick to take advantage of.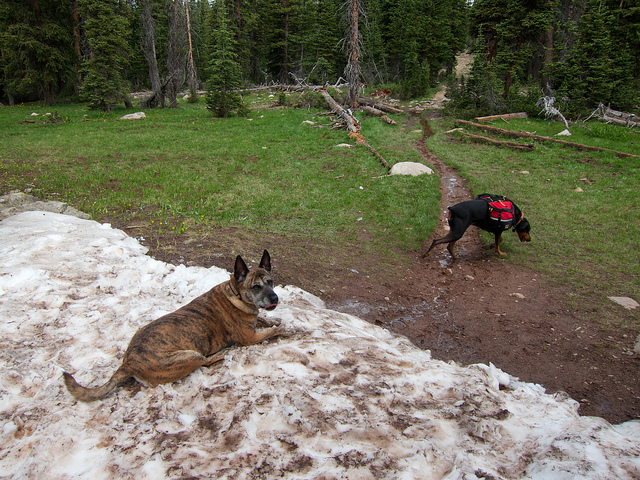 We stopped at Clegg Lake for a snack. The lake itself is pretty unspectacular but it does have some nice views of Reid's Peak and Bald Mountain to the east and then this gorgeous view of Notch Mountain to the northwest.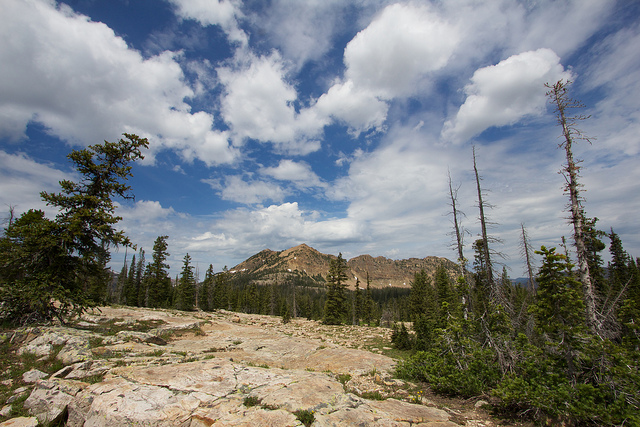 Notch Lake was pretty busy when we got there. We stopped at the east end and took a few photos before moving on. The fish were rising pretty aggressively but they were all tiny which was confirmed by some people we met that were spending the weekend there. Must've been planted recently.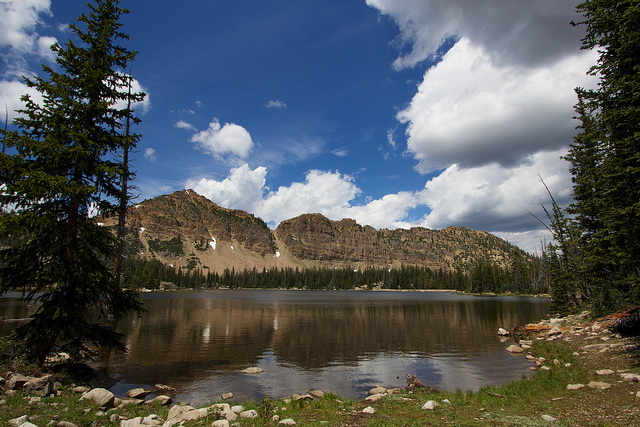 Shortly after Notch Lake the trail passes by Bench Lake. We saw a couple people here but I think they were just day hikers. If I were backpacking over here I would go with Bench or one of the other lakes near Notch like Reid's Lake or Dean Lake.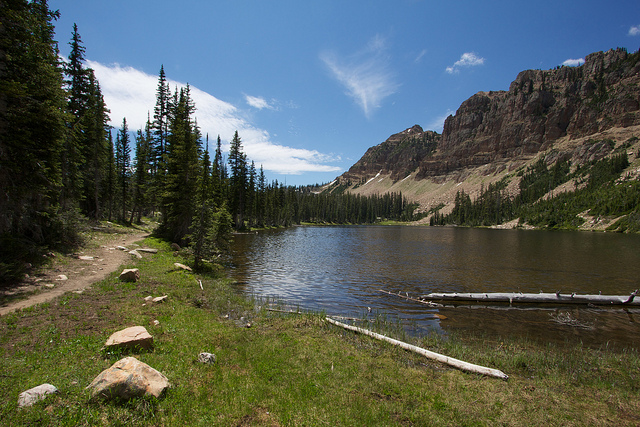 We didn't see anyone after passing Bench Lake until we had made it to Ibantik. It seems that most don't go past that point.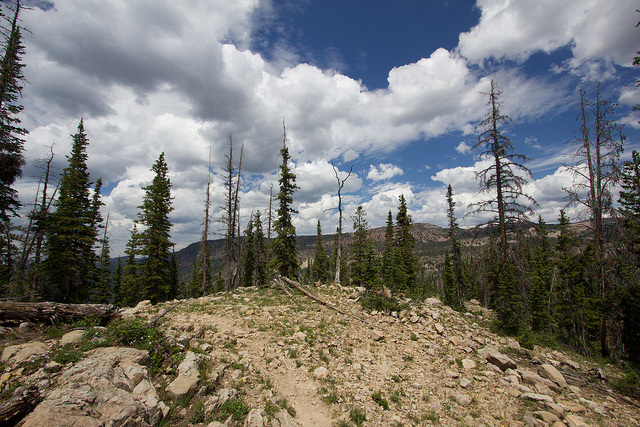 As the trail rounds the northern tip of Notch Mountain there are some nice views over towards Cuberant Basin, Mount Marsell and the Lofty Lake area. This photo probably won't mean much to you if you haven't spent time over there but if you have then it's kind of cool to see it from this angle.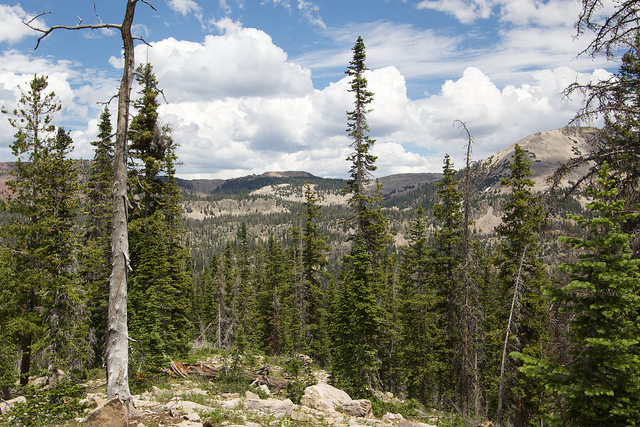 From there the trail drops pretty fast. This was the steepest and roughest portion of the hike. After a lot of hiking down the trail finally crosses the creek at the bottom of the drainage before starting back up the hill towards Ibantik.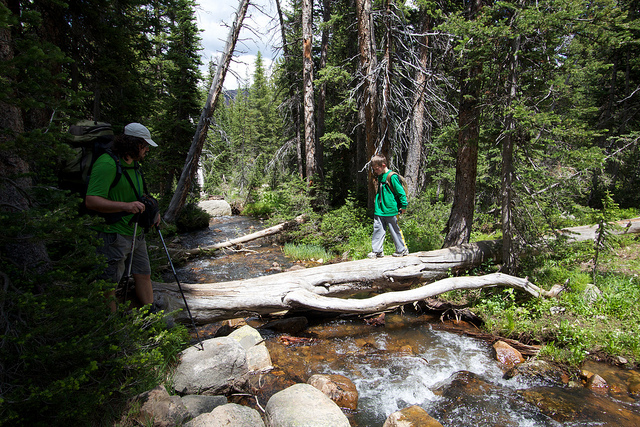 Shortly after the stream crossing the trail passes by the turnoff to Meadow Lake and then continues on towards Ibantik. After the steep descent I was expecting a tough climb up to Ibantik but it turned out to be really nice and gradual.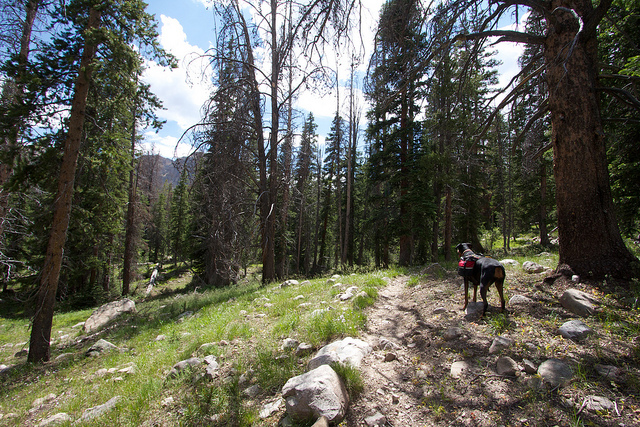 The first view of Ibantik Lake.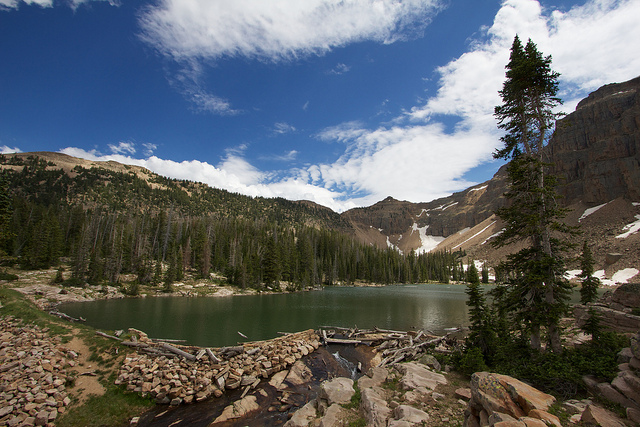 Bill, Lanik and Teak crossing a makeshift bridge built across the spillway. I didn't realize that Ibantik was a reservoir until getting here. It's a pretty big dam by Uinta standards making the lake very deep.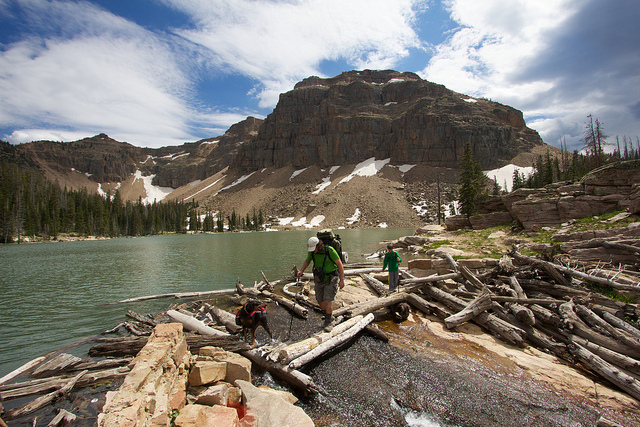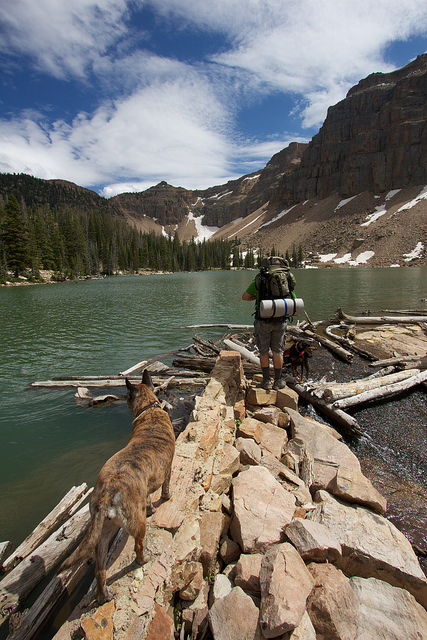 Bill settling in at camp. We setup on the northeast end of the lake but later found out that there were much better spots elsewhere. There are several good ones on the west side where the trail passes by and a nice one on the southeast end near one of the inlets.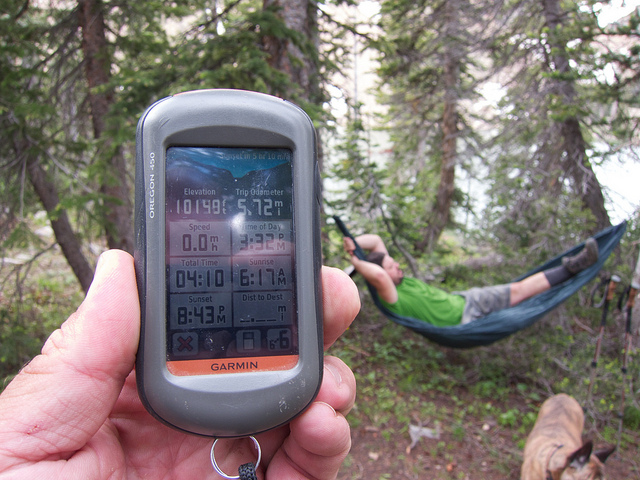 After setting up camp we went down to a nice rock outcropping and did some fishing. Bill had mentioned that Lanik was really excited about the prospect of fishing so I packed an extra rod for him to use. He had only fished with worms on one other occasion so fly fishing off of a bubble would be a challenge. This shot is me teaching Lanik the ropes. This photo and the next were taken by Bill C.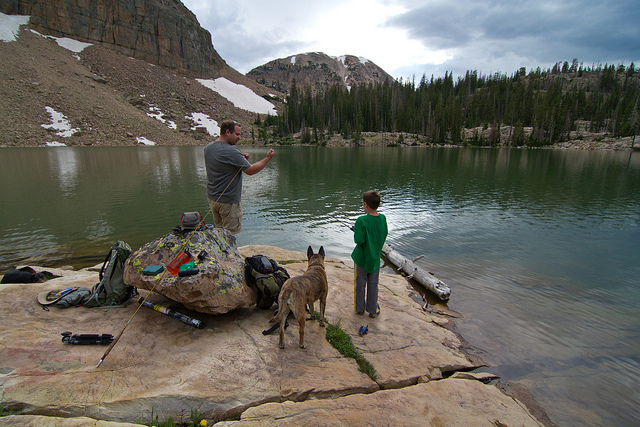 Lanik killed it! The fishing was hot, I think he pulled about 5 out of there with a Renegade behind a bubble. I don't think you could have a better first fishing experience in the Uintas as a kid. He had a blast. Photo by Bill C.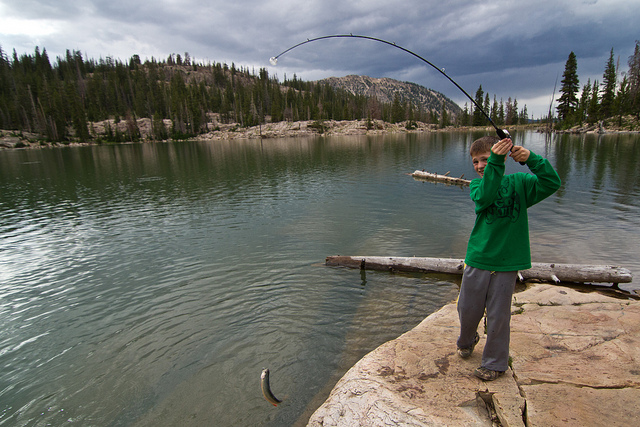 Later in the afternoon we all walked over to the inlet stream on the SE side of the lake and followed it up to some waterfalls to take some photos.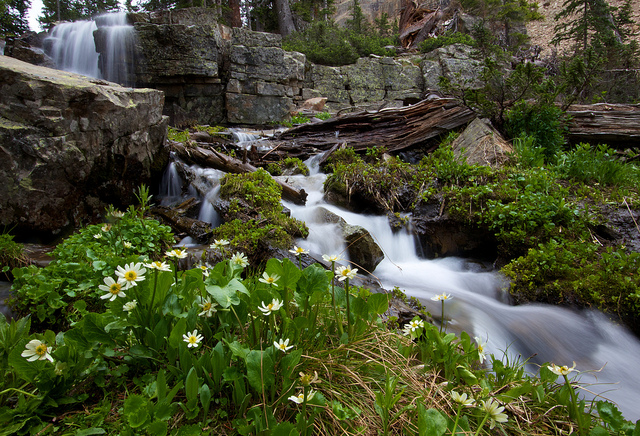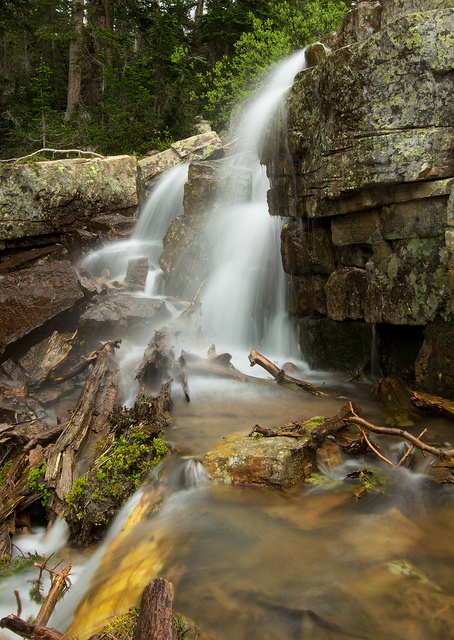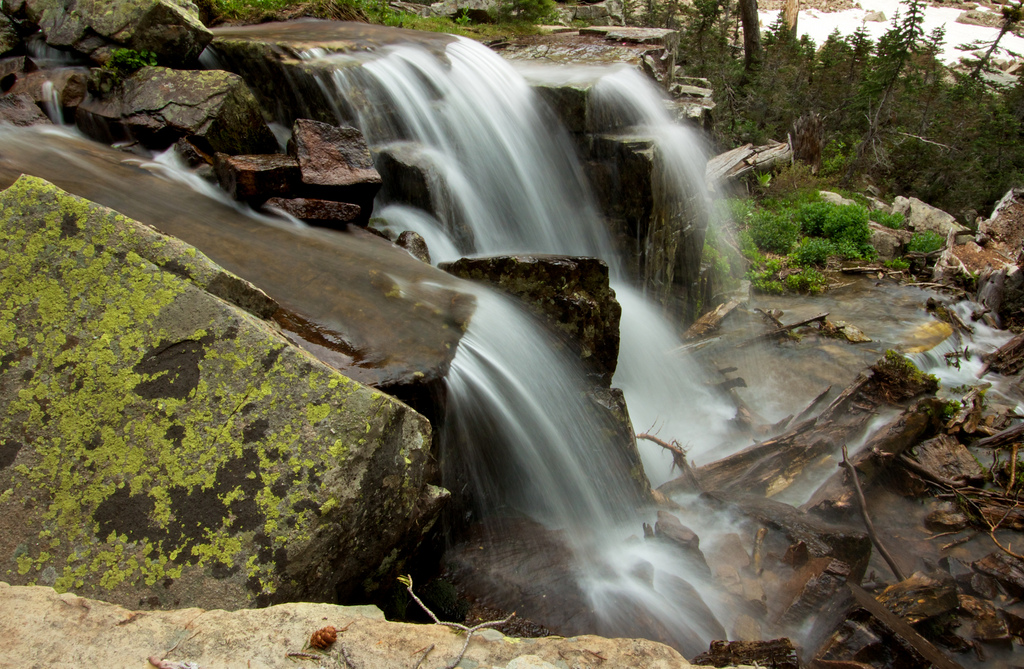 The mosquitoes were pretty fierce later in the evening. Teak's hoody helped to keep them off of her but they were relentless.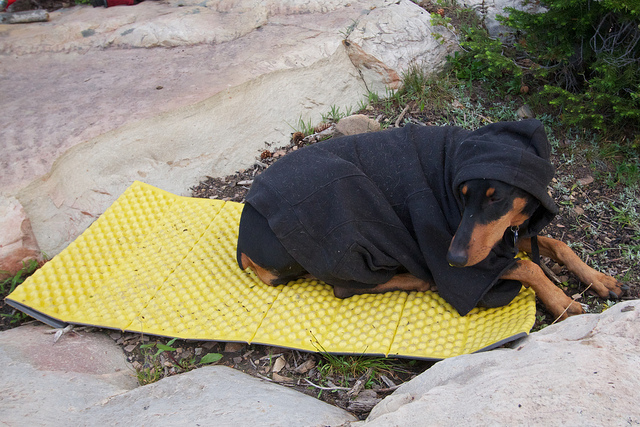 The clouds had moved in midway through the afternoon and hadn't broken a bit the rest of the day so I wasn't expecting much for a sunset, especially with the stormy forecast to the west in Salt Lake. But then Bill noticed a just a tiny bit of pink in the sky. Soon after that the very tips of the rocks above the lake lit up with a deep red alpenglow. For the next 15 minutes it was a awesome light show. Orange, pink, purple, blue. It seems like it was a new color each time I triggered the shutter. Here's a few shots from the sunset. Sorry about the repetitive foreground, I tried some other compositions from our fishing rock but none of them worked out very well.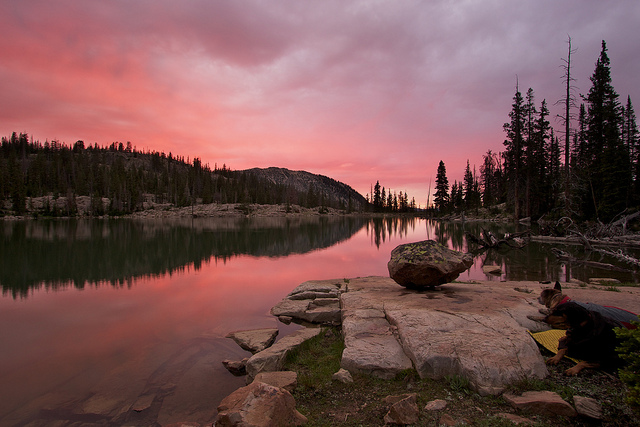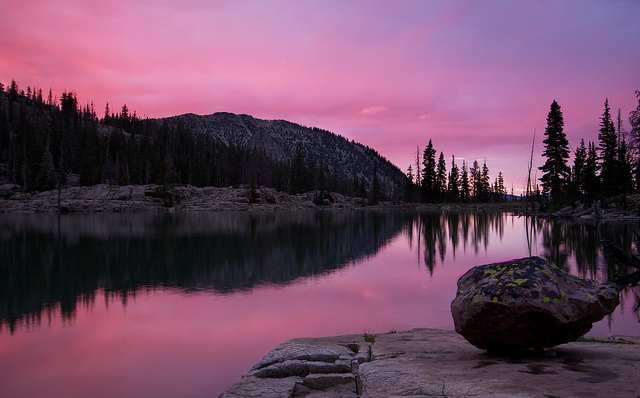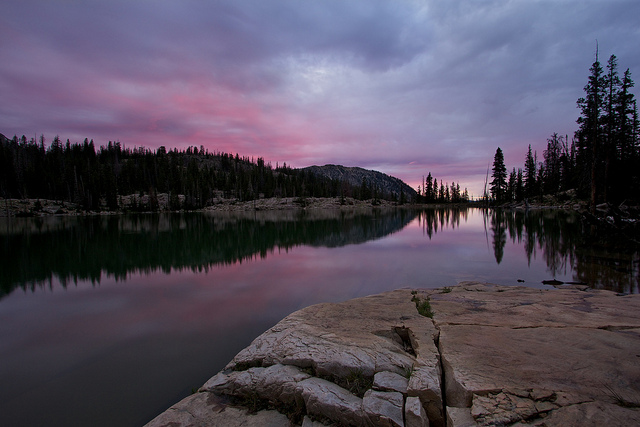 Its rare that you get an awesome sunset followed by an awesome night of star gazing and more photos. That night would not be the exception. After sunset we packed things up and went back to camp where we had a little fire and hung out for a bit before heading off to bed. The tent spots sucked in our campsite so I slept horribly.
There were a few small storms that moved through during the night but nothing major. Seems like the mosquitoes must have enjoyed the extra moisture because they were out in force in the morning. We quickly through everything into our bags and walked to the other side of the lake where we had breakfast, did a bit more fishing and got packed up for the hike out. Lanik caught a couple more fish and Bill caught this awesome sequence of sending one of them back to the lake. Yes, we know this isn't the proper way to release a fish but it makes for a nice photo. Photo by Bill C.

My youngest dog, Teak, had been acting really sore the night before. I nearly had to drag her to the tent when it was time to go to bed. She had just had surgery on one of her paws a few weeks earlier so I pretty much assumed she was just tired or sore related to that. But then in the morning she was even worse! She could barely move 10 feet on her own steam. When I walked to the other side of the lake she followed but she was slow and totally afraid to cross through anything rough. I was getting worried about what to do with her. She weighs nearly 100 pounds so packing her out would have been tricky to say the least. I decided to just try for the hike out and see how she did.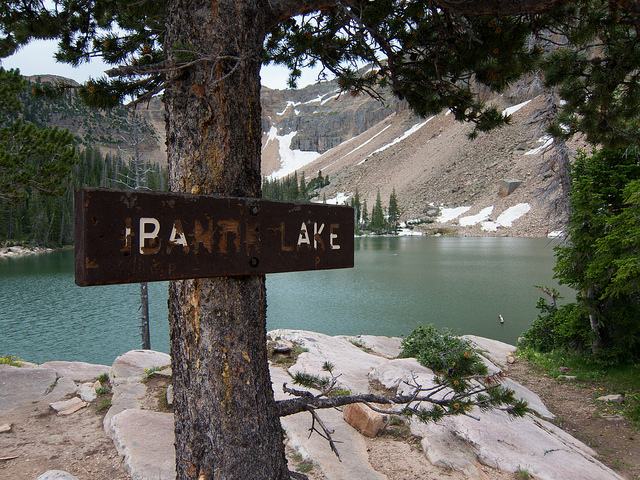 One of the many picturesque ponds between Ibantik and Lovenia Lakes on the way up to Notch Pass.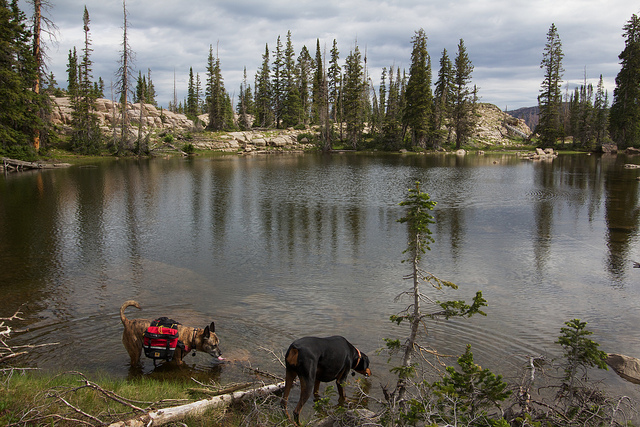 There was still quite a bit of snow in Notch Pass, some of it was even covering the trail.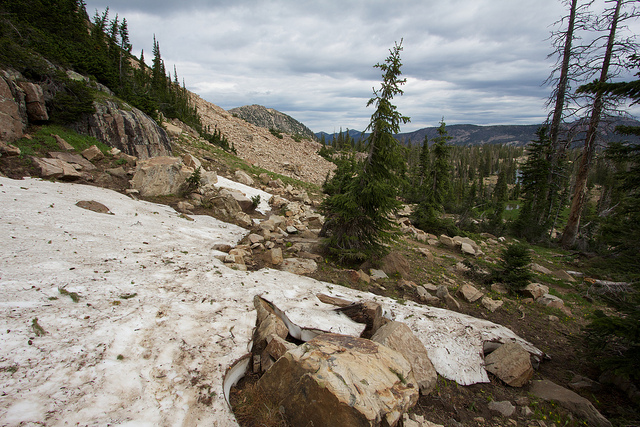 Looking down at Lovenia Lake from just below Notch Pass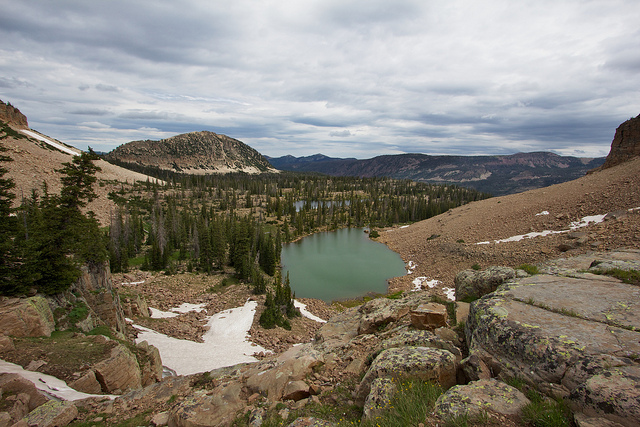 Bill and Lanik descending the other side of Notch Pass. That's Trial Lake on the left, Wall Lake in the center and Mount Watson on the far right.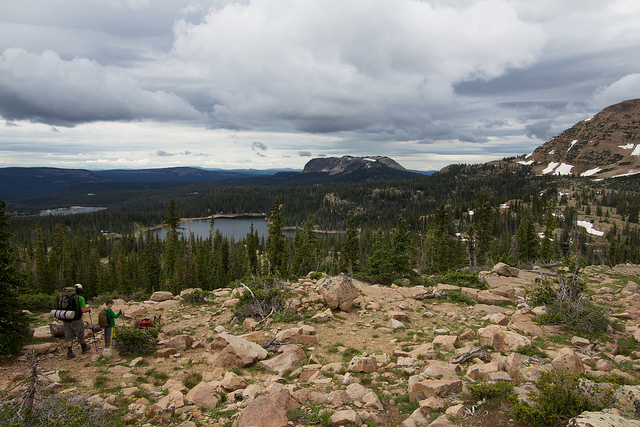 Just a couple more miles to go and Teak was doing a lot better. She hesitated a lot through rough sections but she was a trooper. She made it nearly 4 miles out that day with the look of shear panic on her face the whole time.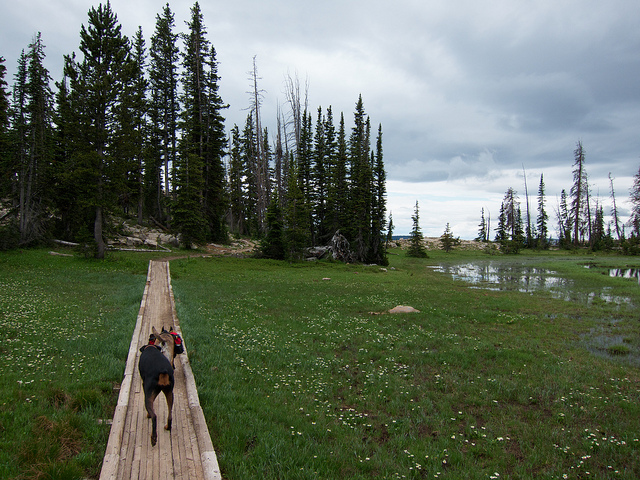 After dodging through the masses of people and flying bullets near Wall Lake, we finally made our way down to the Crystal Lake trailhead.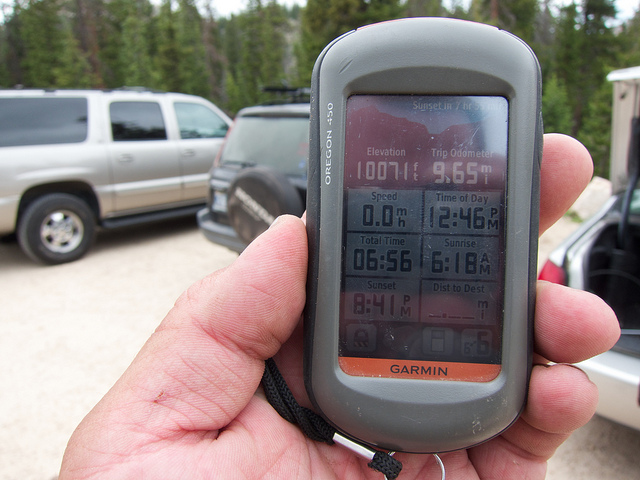 We loaded up into Bill's car and went for the drive back to Bald Mountain to pickup my truck. The dogs were pooped. After getting home and looking Teak over we realized why she was having such a hard time. She had blisters all over her paws, all of which had broken open and were oozing fluids. Some still had the skin attached, most did not. For the next 48 hours she didn't walk more than a few feet without nearly collapsing from the pain. I had to carry her to the yard to do her business, to the water bowl, to food, etc. I feel like such a bad dog dad for hiking her those last few miles like that but I don't know what else I could have done. And I don't understand why it happened either. She has hiked much further than this before and never had any problems. Anyone have some great suggestions on how to prevent/treat this? I have a set of dog boots but they don't seem like they would be very good to hike in.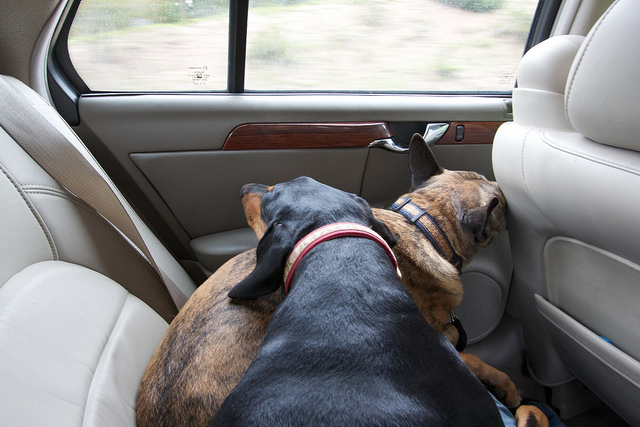 Thanks to Bill for coming on the trip and letting me post a few of his photos in my trip report. He'll be posting his photos on his website at Summit42.com and on his Flickr Stream. Check it out.
View the full set of photos on Flickr.
See more of my trip reports to the Uintas.
Do you have questions or comments about this or any of my trip reports? Say something in the comments below or email me through my contact form.
Like my website? Follow me on Facebook and get updates in your News Feed whenever I post a new trip report.