Fathers day trip, what a way to celebrate. Mount Logan is a prominent peak above Cache Valley. It can be reached in a vehicle with four wheel drive from the backside, this is the first time I've hiked to it. We took the long route starting just outside Logan city limits. The hike climbs up Logan's Dry Canyon which is dry of any visible stream but still somehow quite lush. Taylor recommended the camp spot, he refers to it as the Elk Camp. Quite nice really. Good benches, a wonderful view of the city and a genuine piped spring. By that I mean there is a pipe coming directly out of the mountain and you can just drink right out of it. Very nice. Thanks Taylor!

trip date: 6/19 thru 6/21/05
distance: 16 Miles
starting point: Logan's Dry Canyon, just outside city limits
destination: Mount Logan
elevation: This trip carries with it a good amount of elevation change, the trailhead is at roughly 5,300′ and Mount Logan is at 9,710′
This is a map of some of the key locations.

View
Highline to WFBF – BCP
in a larger map. Or view the
Google Maps version
This is a shot looking down Dry Canyon towards Logan. You can see what I mean about it being rather lush.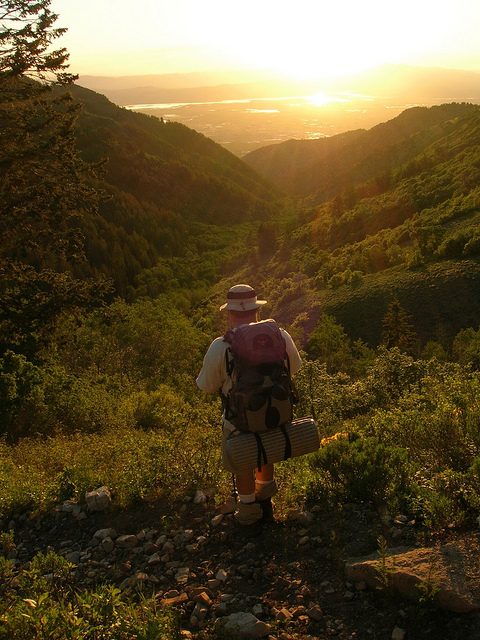 We started late in the day so the sun was setting before we made it into camp. This is a along the trail shortly before arriving at our camp site.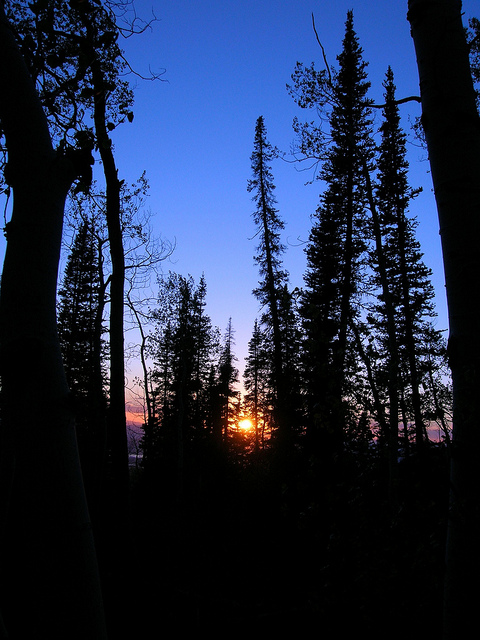 The next day we went on a day hike from our camp near the spring up to Logan Peak. The weather was perfect but there were still quite a few nice snow drifts around.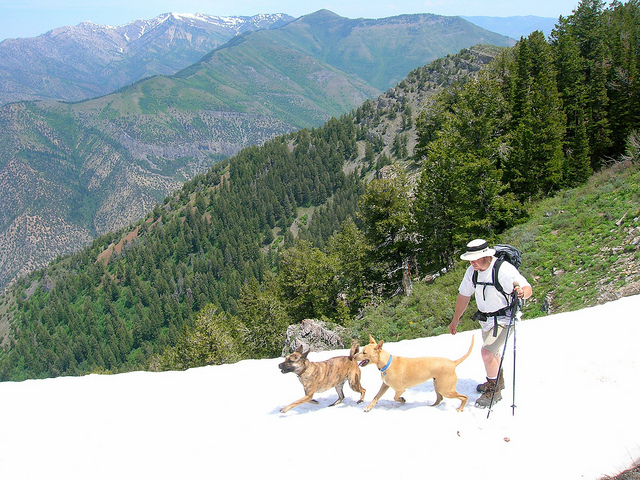 The dogs LOVED the snow.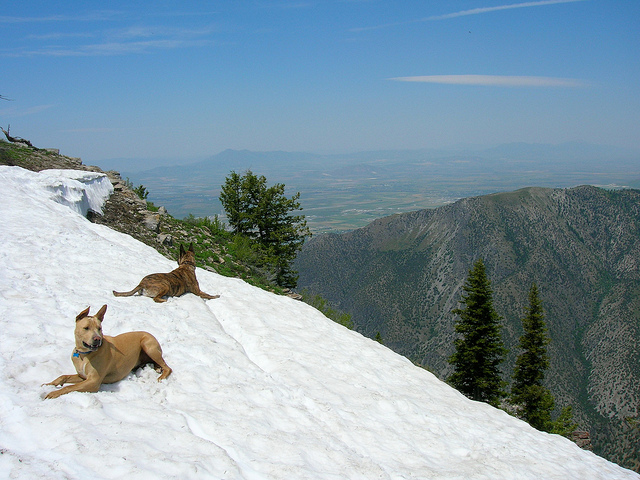 Looking down the ridge to Logan.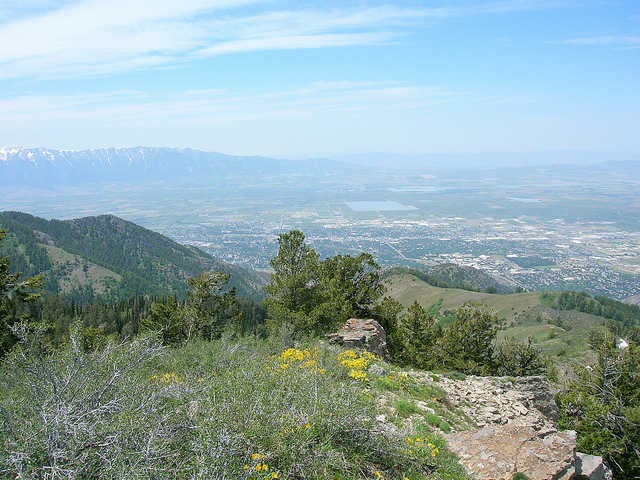 Every now and then the dogs would disappear, we would almost always find them well ahead of us like this soaking up the snow.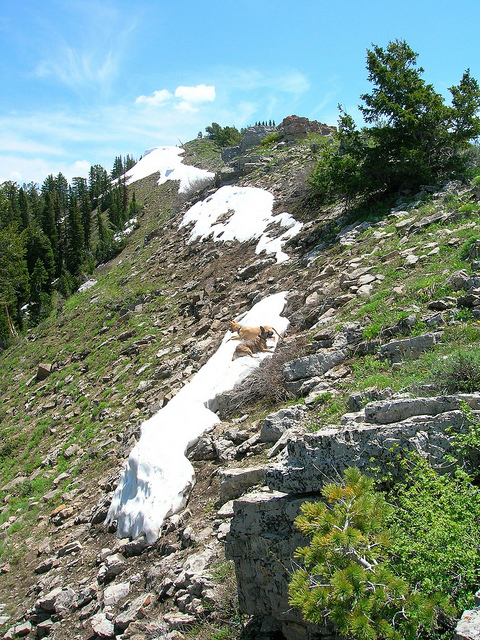 Looking back at Nate hiking the ridge with Cache Valley in the background.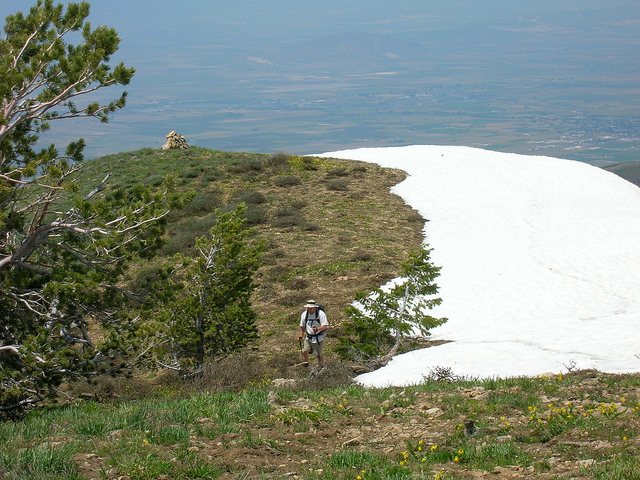 Nikita looking like a wild animal with Logan Canyon and The Naomi Wilderness in the background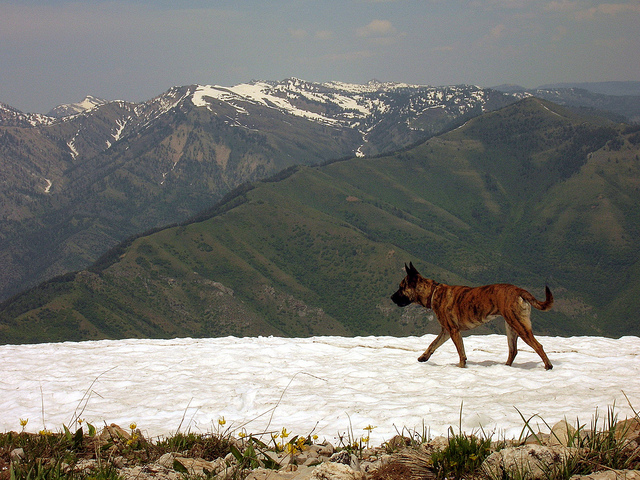 The snow drifts became larger as we gained elevation.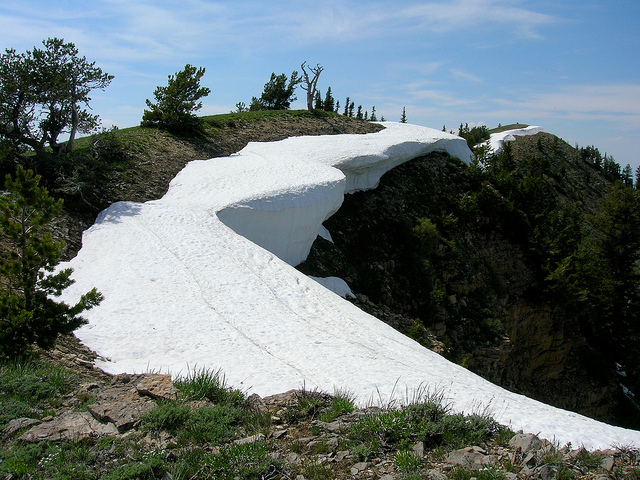 There is a series of huge cairns to mark the way to the summit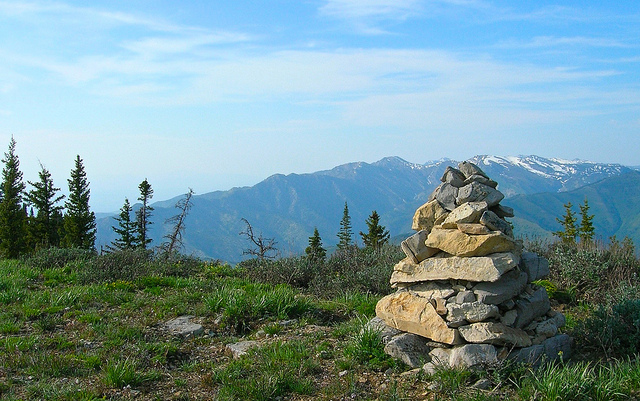 And finally the top of Mount Logan. That mailbox looking thing usually has random notes in it. I have no idea what its real purpose is.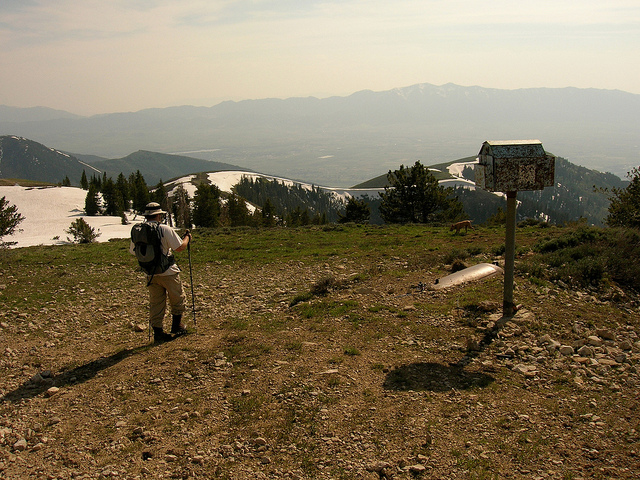 This communications building on top of Mount Logan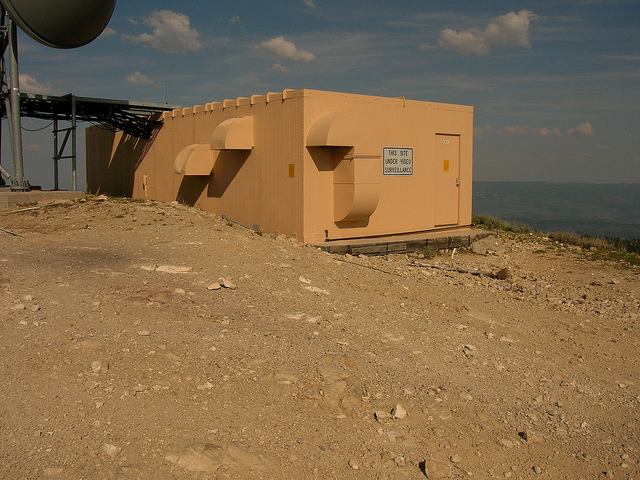 Going back down the mountain was fun!

Looking down a side canyon on the hike back. Lots of avalanche debris.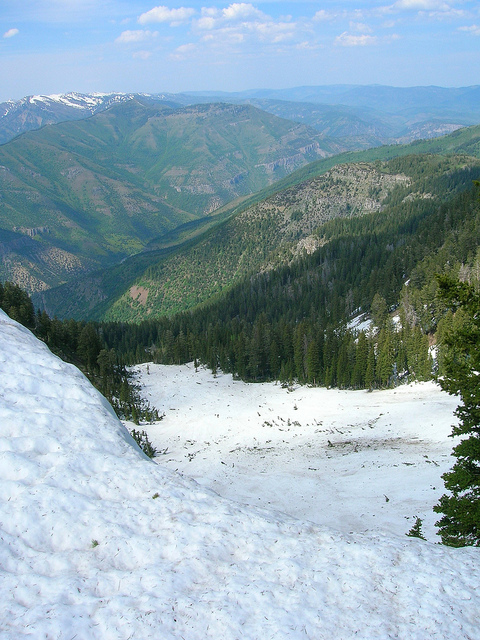 Nikita on the hike down.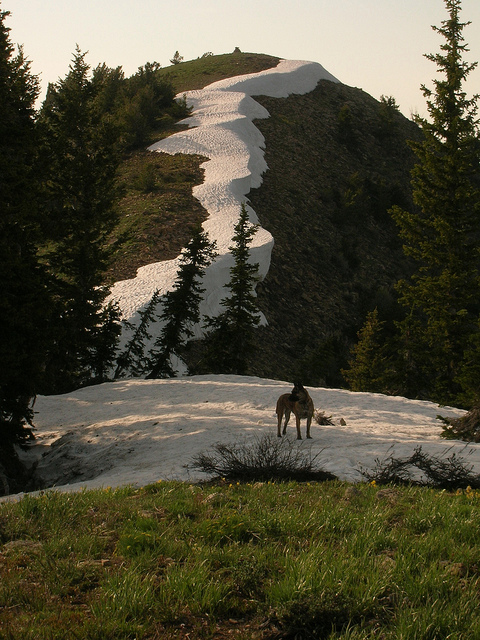 Heading back to camp.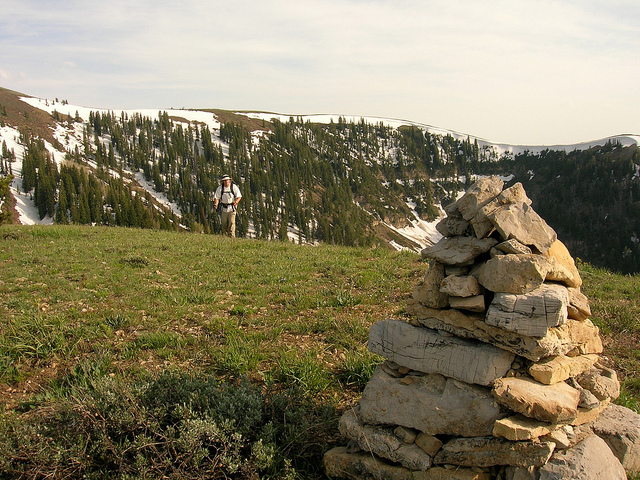 After dinner we walked out to the ridge to get a few shots of the sunset"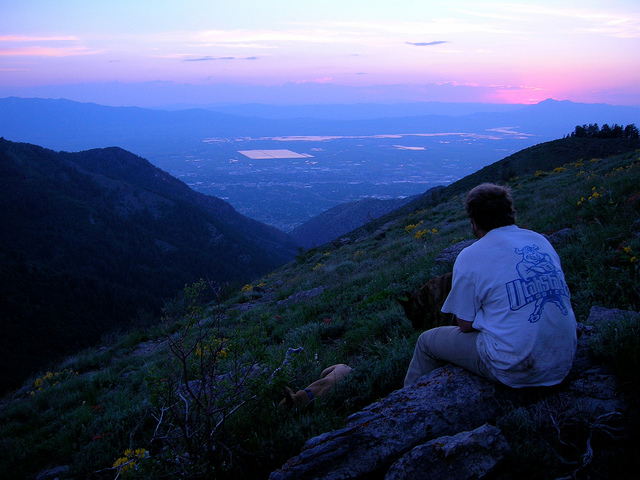 I got lucky with this one. One of my all time favorites.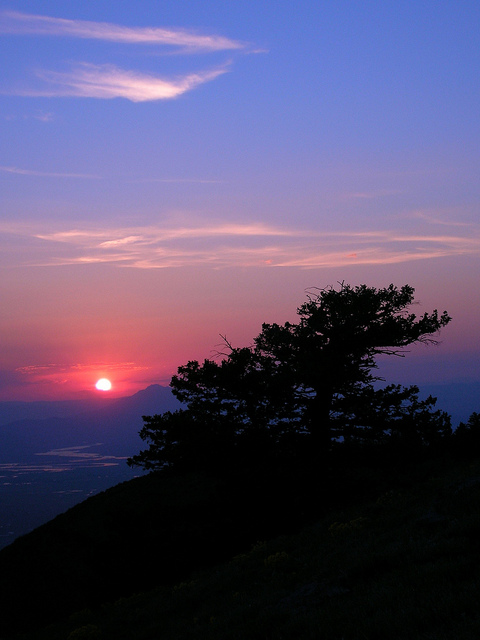 The next day we packed up and hiked out. We hadn't seen this very well on the way in due to our late arrival. This is avalanche debris from a huge avalanche during the winter. This debris trail ran for at least a mile or two down the canyon. Under all the broken trees there was still a lot of snow.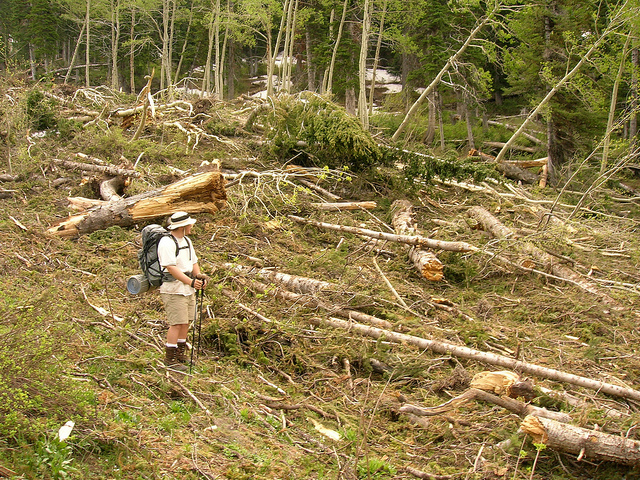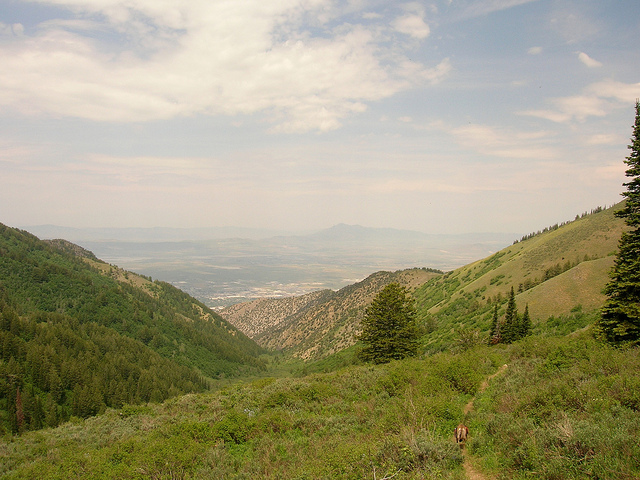 See the rest of the photos from this trip on Flickr.
Click here to see more of my trip reports from the Bear River Range.
I enjoy fielding any comments or questions you might have about this or any of my trip reports. Just hit me up in the comments below or email me through this contact form.
View the full set of photos on Flickr.
See more of my trip reports to the Bear River Range.
Do you have questions or comments about this or any of my trip reports? Say something in the comments below or email me through my contact form.
Like my website? Follow me on Facebook and get updates in your News Feed whenever I post a new trip report.