Capitol Reef
Hiking & backpacking routes in and around Capitol Reef National Park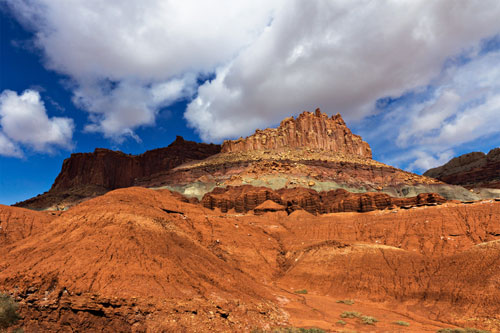 Capitol Reef National Park is Utah's youngest park, having been named such in December, 1971. The park's primary feature is the Waterpocket Fold, an impressive geologic feature running roughly north-south for about 80 miles between Thousand Lake Mountain on the north and Glen Canyon on the south. Capitol Reef encompasses an impressive amount of primitive backcountry, spread over nearly a quarter of a million acres. Primary access is provided by Utah State Route 24. Backcountry access is through the Burr Trail, Notom-Bullfrog, Caineville Wash and Harnet Roads. Most established trails and tourist attractions are centered in the Fremont River valley near Fruita.
An exceptional point-to-point day hike along the narrow...

Views:

13,224

Updated:

Mar 10, 2013

A very short but highly scenic route to an overview of...

Views:

4,025

Updated:

Mar 10, 2013

Upper Muley Twist Canyon is a largely undiscovered gem of the...

Views:

15,313

Updated:

Mar 10, 2013
The information provided here is intended for entertainment purposes only. The creator of this information and/or Backcountry Post are not liable for any harm or damage caused by this information. Conditions in the backcountry are constantly changing, only you are responsible for your safety and well being when traveling outdoors. Carry emergency supplies and always tell someone where you are going. The content of this page may not be duplicated without the express written permission of Backcountry Post and/or the individual copyright owner.