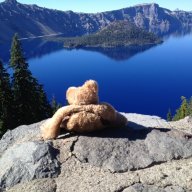 Up hill sucks. Change my mind.
.
Joined

Apr 7, 2019
Messages

19
I am investing in my first hard core sleeping pad. After reading all of your lovely comments, it seems like there are two main contenders, XTherm and XLite. I HATE being cold, so I am leaning towards the XTherm. Despite its price tag, I don't see a legitimate reason to not go this route. The higher R-value, IMO, makes the extra 3oz worth it. Most of the comments I read are well over a year old, so any new feelings towards the two pads is welcomed. Or if you feel there is a better option out there, please let me know. But at this point in time, I think I'm team XTherm.

Things that might matter:
- stomach sleeper
- noise does not bother me.
- I hover at a whopping 5'2
- I REALLY hate being cold!!!
- I'm kinda rough with my gear.

K Thanks.