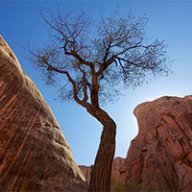 Joined

Aug 9, 2007
Messages

12,927
I'm trying to come up with a nice backpacking route in the Wind Rivers and could use some suggestions...

Here is the criteria:

1. Less than 35 miles. We'll have 4 days so that's a pretty laid back pace but we're looking to get into an area where we can setup camp and explore and relax.

2. Excellent photography and fishing opportunities.

3. Less people is always a plus.

4. Something with a bit of a loop in it would be way nice. I hate pure out and backs.

Some of the places I've been considering:

Grave Lake Loop out of Big Sandy TH. Looks pretty good but it's pushing the edge of our ideal length and throwing two passes in there is going to make us keep moving more than we'd like.

I thought about Titcomb but I really don't want to do that until after Labor Day one of these years just to avoid the crowds. Not to mention the out and back aspect and the fact that I didn't care much for the Seneca Lake Trail.

Deep Creek Lakes out of Worthen Meadows TH

Cathedral Lakes out of Dickinson Park TH

What else?