Fall in the mountains of Utah can be tricky. Some years winter shows up early as I have posted here in previous years. Some years its warm till October, and some years it will snow on you in September. This year has been incredibly warm and dry out there. I had the itch to try out some new camera tricks and really wanted a couple of more nights out there before the long winter returns to the range. With the forecast showing mid 60's daytime, mid 40's over night I thought I would spend the last three days of September closing out my season in the Uintas. I finished work on Friday, then packed up the Jeep and headed into the Uintas. It was balmy, even into Kamas. Once on the highway it got cooler as you drove in. I arrived to pretty empty trail head. A few cars, but not too many which meant it was going to be a nice hike in. I put on the boots and pack and started in on the trail.
I made a quick push up to Wall Lake, took a picture and moved on. Its late September so daylight is short these days and the temps get a bit chilly in the shade now. I made my way past Wall Lake and then up to Hope Lake which had some very interesting light when I passed. I did the final push up to the junction for the Notch or to Twin Lakes. I moved down to Twin Lakes and after 1 hour and 20 minutes found myself standing at the North Twin. I looked around for a camp spot and found one nicely tucked back in the trees. I set up camp and gathered my fire wood for the evening. Just as I had finished getting my camp set a beautiful sunset started taking shaped I ran to the shore to get a shot. This was the best sunset all season up there. I then moved back up to camp and got my fire going. As soon as it went dark I set out my camera for a time lapse since the clouds were not going to cooperate with me getting a star trail this night. I had a really great night by the fire as the moon rise lit everything up like it was daylight. After my camera finished up I packed it in for some really much needed sleep.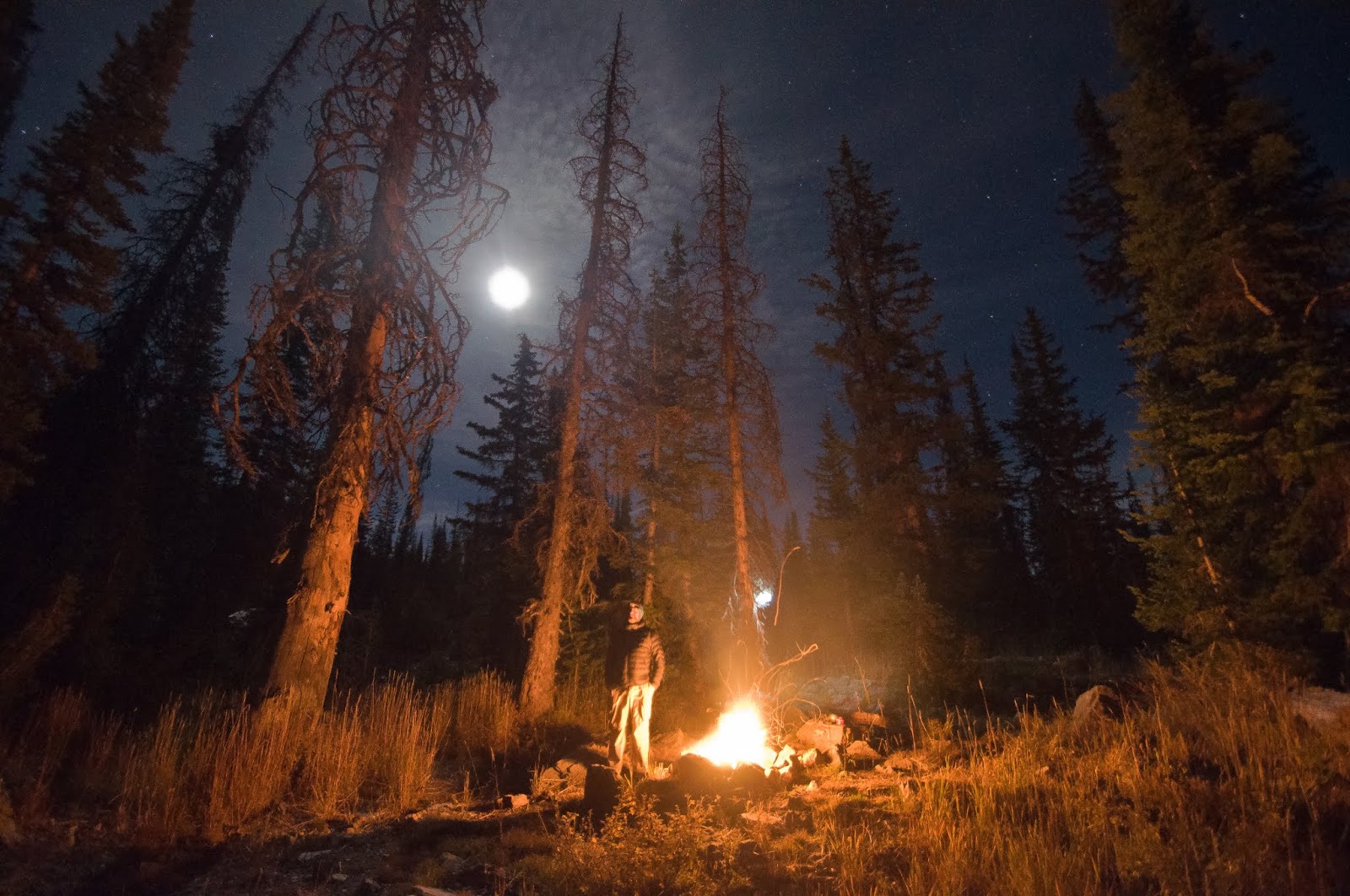 Morning came and I got up later than usual. It was almost 9 AM when I rolled out of my sleeping bag. I made coffee and had breakfast then decided to get ready to go do some fishing. I tried the North Twin for a while. I landed some 8-10" brookies, but not on a very consistent basis. I then moved up to Clyde Lake. The wind was howling up here and that makes fly fishing tough. I found one spot that worked but only landed a few. The wind finally won and I returned to Twin Lakes. I got to camp and I was hungry so I made some lunch. I noticed this point above my camp and have wondered what was up there. I found a very nice lookout point that overlooked Wall and Trial Lakes. Walking back to camp a plume of smoke from the Murdock Basin fire was towering over Bald Mountain. It looked like a volcano was erupting. I watched it for a bit before returning to camp. I then decided to go fish the South Twin. It is more of a large pond than a lake. I had instant luck on some really small fish, one barley 5". I saw this hole that was boiling and as soon as my fly hit on the drop it was fish on! Nice sized Tiger Trout with one easily 14". I fished till the light made it hard to see your fly on the water. I returned to camp and got things going for the evening.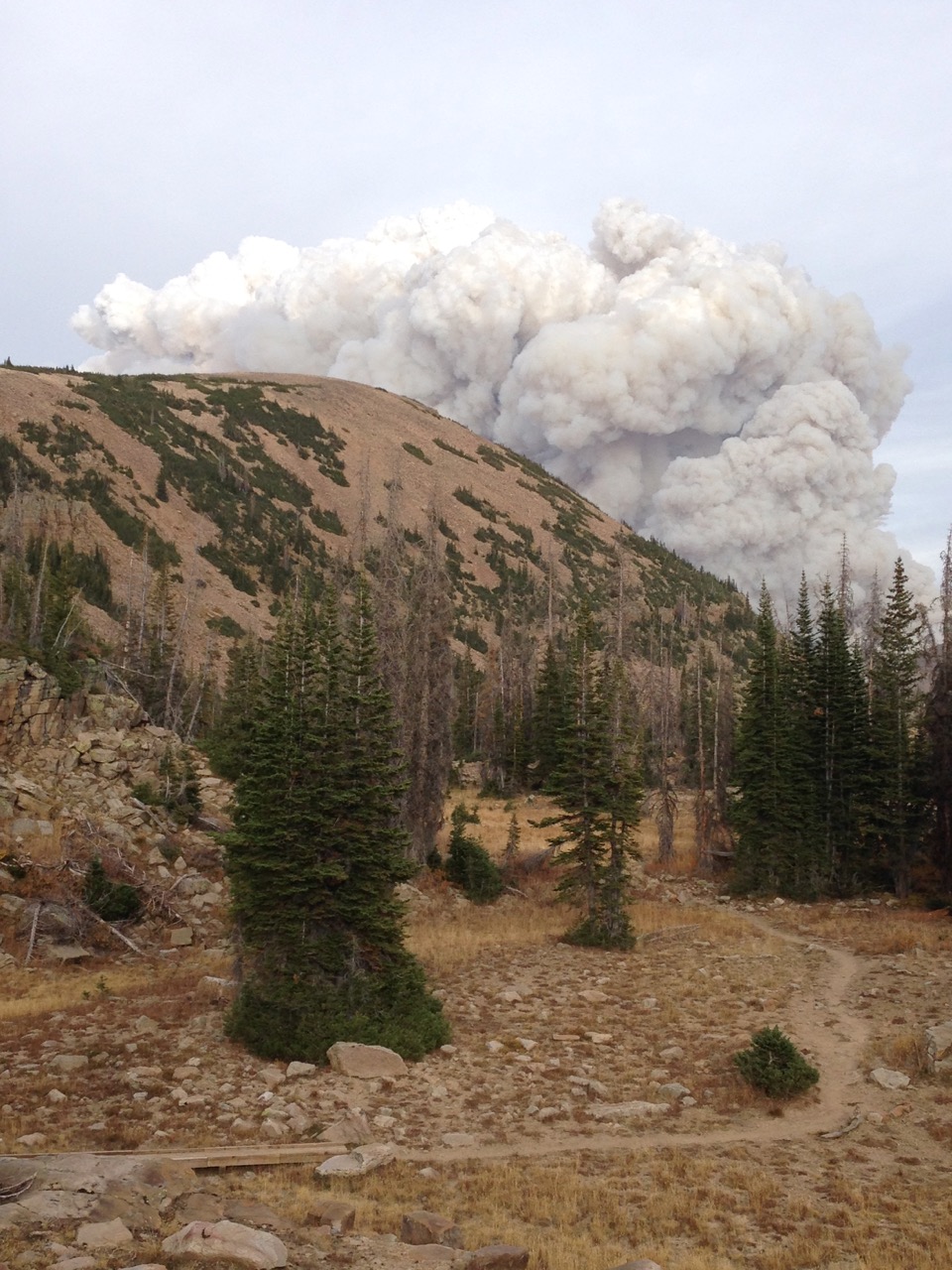 After putting out the camera I settled in for my final night of the year in the Uintas. The stars were out in-between the passing clouds. The Milky Way to the south was a wonderful sight to see. I ran some time lapses and hung out by the fire just enjoying how warm the night was for being the end of September. I honestly could not believe how warm it was. I took my beanie off and zipped open my down jacket because I was too warm. As the moon rose the temps started to dip a bit and I bundled back up and stoked the fire one more time. I had to get my camera so I went down to retrieve it and was treated to stars so bright and Mt Watson being lit up by the moon. I spent some time out there just gazing at the night sky. The wind started blowing and the breeze off the lake was brisk enough to have me move back up to camp. I tossed in the last of my wood to warm up and put everything away for the night. I coaled out my fire and turned in for some well earned rest.
Sunday morning came with a mix of clouds, cold wind, and sun. I got up and saw that some of these clouds were dark and I was not sure if the forecasted weather expected for early this week was coming in earlier than scheduled. I got up and packed it up and was on the trail by 10 AM. I made my way past the North Twin, then I hiked up to Clyde Lake. I traversed Clyde Lake in a really cold wind and then moved up and over down to Watson Lake. The hike out past Petite Lake and Cliff Lake was pleasant with the last of the fall colors really showing off. Eventually I found myself standing at my Jeep. It was really cold at this point. Coldest temps all weekend was right when I was standing at my vehicle. So I packed it up and headed to Kamas for the last tacos of the year from a taqueria that is open next to the Cheveron. $2 sweet pork street tacos and they have a yummy habanero sauce that was delicious since I did not have time to eat at camp. Its bitter sweet as this will be my last Uintas trip for the season. I have had an amazing year on trail out there. 11 trips, over 100 miles on trail, and 20 nights in the tent out there this year. It has been amazing to be out there and I am sure gonna miss it. Grateful, fulfilled, and blessed for all the days on trail, the nights by the fire, sleeping under the stars, thunderstorms, the amazing fishing, and the places I was able to visit solo, and with friends new and old. Soon things will change from dirt dances to snow dances. I will miss my home away from home. Thank you Uintas for purifying my mind, body, and soul. Its been a damn good one! Enjoy the pics from over the weekend. Nick is looking into why my .gif files will not load here. Until then head over to my blog to see the time lapse videos I shot over the weekend.