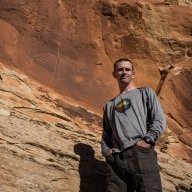 Wildness is a necessity- John Muir
Joined

Jan 4, 2014
Messages

1,099
I suppose I must be a glutton for punishment. I'm essentially paid to hike hard, and on my weekends seem to hike harder. Maybe it is just a twisted sense of adventure.
Ever since arriving in Buffalo the impressive views of the southern peaks of the Cloud Peak Wilderness have beaconed me. I figure as a part of my patrolling I'll make it up many of them but some just don't fit well into a patrol tour. So with a bit of planning I decided I'd summit Loaf Mountain.
The view from my "trailhead"
After a couple miles the peak comes into view.
Another way up to the summit, from the south
Loaf is the southernmost peak of the CPW. The wilderness boundary literally goes through the summit. There is no trail up it, you just kinda figure it out. I decided the way to go would be to go up the eastern ridge from the Sheep Mountain Lookout. 3 miles ish. 2000 elevation gain. Not too bad.
The boulder hopping starts
And the boulder hopping goes all the way to the top
And it wasn't too bad, until maybe the last mile. My nice soil walking turned into boulder hopping. And hopping is not the right intensity for what I was doing. These rocks were easily as big as a car, many bigger, and few sat nicely. I was using canyoneering moves over 15-20' gaps! It was slow going, and hard work. I've only summited a few mountains, and never anything technical, so this was a good intro to that objective. Really not that bad, just enough pizazz to tucker me out.
The view from the top was of course awesome. Looking north I could see right up the spine of the CPW. If only the air quality had been slightly better I'd have been able to see the Absarokas to the west and Wind Rivers to the southwest. 11,700' is a pretty nice spot to hang out.
The summit
The view north
Lame Deer and the Firehole Lakes to the northeast in Circle Park
More Circle Park Lakes
Bomber Mountain barely out of the clouds
Better light for this view on the way down
Featured image for home page: