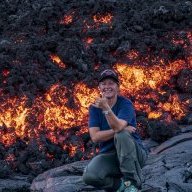 Joined

Jan 19, 2012
Messages

4,070
Beginning of December we got some good sized storms in Southern Utah and they finally brought some snow to the higher elevations.
Snow!!!! How did I miss it!! I had my first bit of it beginning of October but since then there was nothing. But then it finally came and transformed the higher elevations in a winter wonderland. It usually doesn't stick around for very long down here so I was getting a bit antsy and waited for an afternoon off work.
The day finally came on December 4 and as soon as I was off work I headed up Kolob Terrace Road. Snow started to accumulate on the road past Hop Valley trailhead and the further I headed up the more snow was there.
I was so excited and couldn't wait to park my car at the snowmobile turnaround lot just below the big s-curve before heading towards Wildcat trailhead. Further up the road it was unplowed and covered in snow and ice.
I strapped on my snowshoes and started to walk up the road to the trailhead.
snow-covered Kolob Terrace Road
The steep road looked really inviting and in the future, I really want to run it down on a sled.
It sucked a bit to add the additional miles on the road but finally, I reached the Wildcat trailhead and parking lot. The snow was super fluffy and about a foot deep, perfect conditions.
The trail passed a semi-open meadow next to Pine Valley Peak, no and then I encountered some nice snow covered Ponderosa Pines.
It was really peaceful up here, the only sound I heard was the wind blowing through the branches and when some of the snow was falling to the ground.
One of the things I really like about winter hikes, ski, and snowshoe trips: it's always really peaceful and serene.
In many areas, I was breaking trail while others were completely covered in deer and elk tracks.
I did not see any wildlife at all.
I knew I was pretty late for my hike when I started at around 3 pm but I was perfectly fine with that and didn't mind at all to come back in the dark. As a tour guide we always started to hike in the dark, so that was something I was used to.
I made good progress and stopped a ton of times for some pictures.
The snow got deeper and even the Ponderosa Pines were now wearing a full white skirt.
Shortly before sunset I reached the Northgate Peaks and stopped to take in the view. It was pretty windy and cold up here but nonetheless, it was absolutely beautiful.
I didn't see a single soul at all.
North Guardian Angel
Though it was pretty cloudy for the most part of my hike, the sun finally found an open spot near the horizon and started to lit up the trees in golden hues.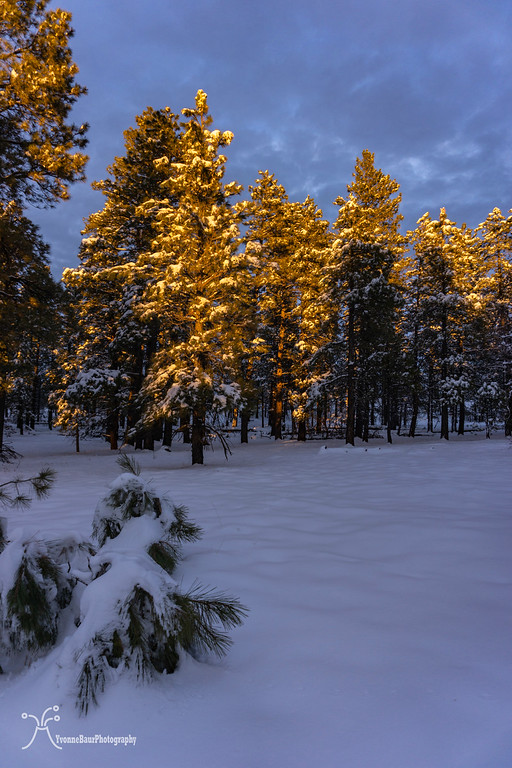 It was absolutely beautiful. Unfortunately, I was in a heavily forested part of the trail and the thick Ponderosa Pine forest prevented the most amazing views.
I started to hurry because I wanted to find a somewhat open spot for sunset. The sky started to lit up like crazy and I knew that it would be an absolutely amazing sunset.
I did not want to miss it at all.
I finally reached the canyon rim and enjoyed some really nice views towards the glowing sandstone cliffs and the sky.
waiting for sunset
I had quite a bit of intense afterglow and then the sky just turned into a nice pink before it started to get dark.
The last 2.5 miles were in complete darkness but my camera still caught some light.
At around 6:30 pm I reached my car and enjoyed a cup of hot chocolate before heading back home.
I definitely want to repeat the trip and if we have enough snow this winter, I will even do a few full moon snowshoe hikes.