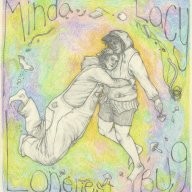 Joined

Mar 10, 2016
Messages

101
What a nice day ! Warm, mixed sky, light wind. Perfect. Headed in on the Quo Vadis Mine Road til it topped out,
then put boots to earth for a short jaunt up.
I had
wanted
to make it out to the high point in frame upper left, but after some really enjoyable easy walking and spicy scrambling thru notches and down chutes, that final hump is a just awful loose and very steep, near vertical but chunky, 100' +/- nasty wall. Soooo... we just turns right back around and enjoy the aforementioned route in reverse back to the truck.
Then headed out along Dutchman Pass Road to exit back into town.
A really nice area, crisscrossed by dirt roads for some decent access.