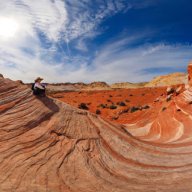 Joined

Aug 18, 2018
Messages

527
Before you get stuck in quicksand - how can you tell you are approaching it? What is your experience or advise?
Today we approached a slot canyon deep in White Rocks Canyon off Churwell, Utah. Water was dripping down everywhere (snow melting). At the entry point there was a pool of water. Probably just fine, but Rick sank in quickly, as you would expect around a pool of water. We thought it was too wet to enter. It looked like you could jump across the gap.
(But I remembered
@b.stark
TR helping a woman out of the quicksand close to a wall like that)
So how do you recognize it?