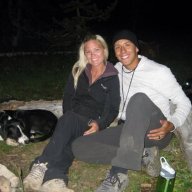 Joined

Mar 3, 2014
Messages

39
I have been looking all over this forum for a TR on the Erickson lakes but haven't been able to find any, so I was wondering who has visited North Erickson Lake on here? And if you have, I would love to hear about your trip.
Anyway, this is from a trip my wife and I did in 2011, and this will be a lousy trip report, but a lousy trip report is better than none right? I have very few pictures of this trip, and the only ones I really have are of the camp site.
Well, if you have ever been to these lakes, than you know it takes forever to get to the trailhead. There is a long dirt road that is rough the whole way there. It felt like we were driving 2mph for 2 hours and that is with a good off-road vehicle. I didn't prepare too well for this trip, I just figured we would get on the trail and it would lead us straight there, but there were a couple forks in the trail, so I'm not even sure we made it to our destination.
Me, Chance and Luna (RIP) hiking in.
The skies were great, I wish I had a nice camera at the time, but all of these pictures are with my iPhone.
Like I've said, all of my pictures are of our campsite, but I've vnever stayed at a better campsite than this one. It was tucked away so nicely in the trees with one opening to look at the lake and the incredible view.
This is the only real picture I have of, what I think is North Erickson lake. But like I said, I amrobably wrong, so please, anyone who knows, correct me.
We spent a little time testing the fishing, and we caught a few nice ones. It was a few years ago, so I can't even remember what I was using or what kind of trout I was catching, but it sure was a blast!
I wish I remembered more about this trip. All I really remember is how bad the Mosquitoes were, how long the drive was, and how this was probably my favorite trip I've been on with just my wife. I just don't know if I will ever make it back there because of how long it takes to get to the trailhead.
Hope you enjoy!
Featured image for home page: