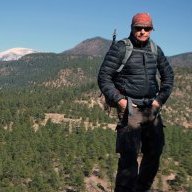 Joined

Aug 19, 2016
Messages

459
Note: This post is written for non-locals primarily so all you steely eyed outdoor denizens of Utah may may find a lot of the content familiar.

April 28 – 30, 2018
This trip takes place over three days in the San Rafael Swell of Central Utah. The San Rafael Swell or "The Swell" as we like to call it, is a 70 by 40 mile wide zone of geologic fractal confusion, which does not describe it scientifically but it's as close as I can get.
The Swell is divided into Northern and Southern sections by the Interstate 70 highway. The Southern part is an anticline, or ridge shaped fold. The Northern part is more like a sampling of the different types of terrain one would experience in the Colorado Plateau. It's primary feature is the San Rafael River Canyon. The first part of the trip takes place there.

LITTLE GRAND CANYON
Day 1: I parked at the Fuller Bottom Trailhead at the Western entrance to the Little Grand Canyon with the goal of backpacking to Virgin Springs Canyon. There is a pictograph panel there that I wanted to see for many years. It's about 7.5 miles to the entrance to Virgin Springs and requires 12 or so river crossings. It would normally not be possible to do this in Spring because of peak runoff but this is a year of historically low river flows so the crossings were relatively easy with water reaching mid thigh at most. Virgin Springs Canyon is less than a mile in length with a spring at pour off. There was plenty of water even in this drought year. The panels weren't too hard to find, worth the trouble (if one wants to call it that) and hopefully my photos can tell the tale better than I can here.

I had a beautiful night in the canyon. The campsite is at the entrance and apparently has been in use for many years. Cowboy graffiti and more recent verities adorn the walls. Bats came out in the evening along with beaver in the river, one of which treated me to a tail slap and dive.
DAY 2: Having accomplished my goal and with more on the agenda, I packed up early and headed out. I had not seen one person the previous day but this being a Saturday, I started to see folks including a couple who looked like the victims of an explosion at REI. I wished them well and carried on. The hike out was uneventful but awesome and I was feeling like a grizzled canyon man until I saw a Dad and his 7 year old daughter in pink sparkly hat and pants, backpacking up the road. Ego temporarily deflated, I marched on and reached the trailhead around 11:00 and found the place buzzing with activity as recreationists of all varieties set of on adventures horse, human, and gas powered.

Transiting to my next location, I passed through the town of Castle Dale with a stop at Fatty's Pizza. There I encountered a guy in full camo with a pistol strapped to his waist, and a t shirt that said, "Packing!".
This reminded me that I was in Utah, home of good roads and great lawns. After my meal and a dessert of sugar donuts, I set off for my next goal which included working off that sugar high.

Fatty's Pizza
http://fp340.com/

ASCENDING SHEEP PANEL
The Ascending Sheep Panel is a pictograph of astounding quality hidden within the canyons near Moore Utah. I had been looking for it for many years and had come up empty after a couple of tries. Talking to locals helped with this usually and I was given lots of good information that proved to be utterly incorrect. I was on Country Road 803 near Moore looking for dirt roads and turnoffs that weren't marked "No Trespassing" thinking that would make some sense. I saw a couple of ranch ladies out for a walk and stopped to ask them what is what. They had just finished their hike, it was in the 80's, but they informed me that I was across the road from the correct trailhead. They took it upon themselves to take me right to it. After crossing a couple of canyons in a direct line, and some arguing that I was not a party too, they found the alcove that contains the panel. I'll tell tell you straight up that unless you absolutely know for a fact where the location is you weren't going to find it. After heartfelt thanks, I gifted them the rest of my water and Kind Bars, the very least I could do. They bid farewell and I took me some pictures. (shoulda taken theirs). I found out later, after getting back home, that there are online resources taking you right to Ascending Sheep. I'm glad that I found it this way.
OLD WOMAN WASH
Day 3: By this time I had been on the go nonstop for 3 days including a 9 hour drive from Santa Fe and was feeling it. I still wanted to get to Old Woman Wash so will power kicked in. The turn off is 19 miles South of the I-70/Highway 24 junction. You go through a nondescript gate, onto a nondescript dirt road with a few turns and junctions and arrive at Chimney Camp. It's whats left of an old cabin. Adjacent to it are the fence line and markers of a wilderness study area whose name I do not know. Beyond that line is the wash and beginning a mile or so up it are numerous pictograph panels including the 8 foot tall Ekker Panel (maybe Ekker was the guy who owned the cabin).

Note there are a couple of good trip reports in this forum with pictures. It's how I got the bright idea.

It was windy when I arrived and stayed that way. Getting the tent up was exhausting. It was a rough night with gear blowing all over the place. In the morning, dog tired and in no shape to hike up that wash and climb slick rock solo, the decision was either to stay there another night and rest up or head home. Being that I had reached 2 of the 3 goals, I decided to pack up and head for home leaving Old Woman Wash for another day. Following is a video from Rex Nye who must have been there either a few days before or after me if his posting date is around the time he was there.


411
Things slow way down going through Moab during peak season. I went through at the peak of the peak so to speak. Lodging can be found in Green River or in the towns along Highways 10 and 191. Both bracket the Northern Swell. The Southern Swell has far fewer lodging options and is more remote than the route I took. Care is needed to make sure you have enough gas to make the journey in the Southern Swell.
Barrier Canyon Style Pictographs
First surveyed by Santa Fe's own Polly Schaafsma, these enigmatic expressions of true, well executed art inspire awe and obsession. No one really knows how they were done or who did it. There has been much speculation, some of it unfounded, but they still are worth the great effort required to visit them. The Swell is the epicenter so both the outdoor galleries and the art.

About the photos. For me rock art is difficult to photograph so I take different shots and edit them to highlight the rock art itself. This distorts the overall image so I have tried to provide corrected and uncorrected versions so you can see the differences.

The photos of rock art take on this trip are in this page:
https://backcountrypost.com/threads/rock-art-and-ruins.359/page-23
Polly Schaafsma:
https://en.wikipedia.org/wiki/Polly_Schaafsma

Scholarly Article on Barrier Canyon:
https://www.ncbi.nlm.nih.gov/pmc/articles/PMC4246979/
411 on Virgin Springs Canyon.
Note: I plan on adding some GPS trackage to the Resources section and will link back here.

Getting there. Pretty simple from the Northern Swell. County Roads (That's Utah roads man, the best around!) The turn off off Highway 10 will take you right to it. You can also get there via Highway 191 South of Price via the Green River Cutoff Road.

Fuller Bottom is your trailhead for put ins, ATVing, horsing around, etc. You can camp at the trailhead but it's pretty desolate. After the first crossing though, there are some Cottonwoods that would make a fine trailhead campsite.

My route description is by foot. I would not try to hike the San Rafael River unless CFS is 30 or under minimum. The easiest and least scenic way to the canyon proper is on the dirt road. You'll pass an information board from which no vehicles can leave the road. If the water is low enough, you can park here and save a couple of boring miles. It isn't far beyond this point that you can take social trails that short cut you down to the river again. You can also just cross the river near the trailhead and blast through the tamarisk. Probably more scenic but much longer with all the meanders. There are a few places you could camp in the canyon, none of them very good with plenty of cow pies. Round trip is 15 to 16 miles depending on the route you take. More if you follow the river the whole way.

I counted 14 crossings and all of them were quite reasonable at 20 CFS. I'm 5 foot 9 so use that as your guide. The deepest one was right across from Virgin Springs Canyon and it got up to my pants pockets. Keep in mind you have to get up the cut banks with a pack on steep, muddy angles. You just follow cattle trails down here and there is no one way. Crossings are pretty logical for the most part.

Virgin Springs Canyon itself is quite pretty. The campsite is right near the mouth on the left side as you are looking at the river. The pictographs are the campsite about 10 to 15 feet above you. They spend a lot of time in the shade and because they are higher than you can reach they are in excellent condition except for some exfoliation. The springs are at the pour off for the canyon, about a quarter mile from the campsite. There was plenty of water in a drought year. I think you can count on this Spring. The water was low in silt and quite filterable with maybe a pre-filter of cheese cloth or a bandana. The river was in this condition as well but would not be at runoff.

As for varmits and bugs, they were minimal despite sources of information stating that they would be bad this time of year. I had a few campsite buzzers and a some noseeums. No deer flies at all.

Other rock art. I know there is some more in there. There are some online resources that point you to them more or less. I didn't bother, maybe next time.
Last edited: