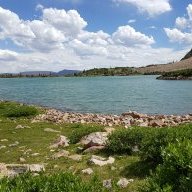 Joined

Aug 8, 2016
Messages

1,566
I got a chance to try out my new MSR Revo Ascent snowshoes last Saturday. They definitely got me to the top of the mountain so overall they performed as I had hoped. There are a couple of things that make me want to consider exchanging them for another model.

1) The binding strap clips don't hold.
2) They are extremely noisy.

The strap clips that hold the surplus binding straps do not hold. Within one minute the heel strap comes out of the clips and one or two of the over-the-foot straps fall out fairly regularly. I guess this is mostly an annoyance but I had no problem what so ever with the Lightning Ascents I rented. If anything those clips were a bit on the tight side and took a bit of effort to slip the straps into them but the straps never came loose. I went back to Recreation Outlet where I purchased the shoes and checked the clips on some of the other MSR models. Most were a loose fit just like on my Revo Ascents but a few were tighter. I asked the sales guy if he would mind seeing if the Lightning Ascents I had rented were in house so we could compare. Sure enough the clips were very tight. It would appear that MSR has changed these clips and are not very effective at doing their job.

On the noise... The Revo Ascents have the typical "slapping" noise when the shoe comes up to meet you heel but these are really loud. Also when walking on packed snow every crunch is amplified by the plastic deck. I was almost embarrassed at how cheap they sounded. There will definitely be no stealth maneuvers approaching wildlife with these shoes. This was definitely not the experience I had with the Lightnings.

I'm going to be calling MSR tomorrow to see if they will do anything for me. Recreation Outlet would not do anything for me because they are already scratched up and they would not be able to put them back on the self to sell as new. I get that but was hoping they would do something to get me into a pair of the Lightnings even though it will cost me about fifty bucks more. Hoping MSR will make me whole on this deal. If not, I might be selling a used-once pair of Revo Ascents.