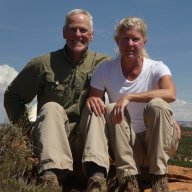 Joined

Dec 7, 2017
Messages

168
In plain sight from oft-traveled dirt roads in Bears Ears National Monument are numerous built structures that you aren't found on any topo or Trails Illustrated map. These are sites that continue to intrigue and puzzle leading archaeologists.
Was this place a Great House of Chaco influence?
An insane amount of sherds :
As Udink would say...."Ooh, a pretty rock!"
Was this flat area for pageantry or play or just a flat area?
Was this circular assemblage of stones for ceremony and, if yes, what were the ceremonies all about?
Was this site part of a network of sites connected by near-to-invisible roads?
As is usually the case, we left each site with more questions than answers. If only Kane Gulch took phone calls...