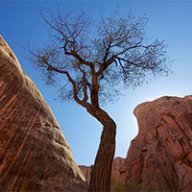 Joined

Aug 9, 2007
Messages

12,658
Bill and I had talked about doing this for quite a while but we didn't want to do it on a weekend and I usually had work issues that made it tough for me to pull it off on a week night. But on the spur of the moment, we decided to finally do it.
We met up at my place in Cottonwood Heights around 4pm on Thursday and drove the whopping 10 minutes up to the trailhead in Big Cottonwood Canyon. I can't believe I've lived in Salt Lake for more than 6 years now and this is pretty much the first real hike I've done in The Wasatch. Sure, I've done some of the shoreline and up to Jack's Mountain as well as some wanderings here and there. But no real, solid hikes to the good scenery. The no dogs thing is always a drag, same for the loads of people. It wasn't bad at all on a Thursday evening though!
Here is a map with my GPS tracks for the hike to Lake Blanche: The sign at the trailhead says 2.8 miles one way but my GPS clocked it at slightly less than 3.5 each way.
[parsehtml]
<iframe src="http://www.mappingsupport.com/p/gmap4.php?q=mymap,214533597045798101523.0004c1ad4a413c97f342a&z=14&t=t4" frameborder="0" marginwidth="0" marginheight="0" scrolling="no" width="700" height="700"></iframe><br>
<small>View <a href="http://www.mappingsupport.com/p/gmap4.php?q=mymap,214533597045798101523.0004c1ad4a413c97f342a&t=t4" target="_blank">The Maze Super Loop</a> full sized in a new window.</small><br><br>
[/parsehtml]The trail follows the paved path along the river before cutting off to the actual Lake Blanche Trail a couple hundred yards from the trailhead.
The first and only river crossing along the route. Surprisingly, the river was mostly out of reach along the trail. It was SO hot and humid in the lower elevations. I should have dunked my head in the first mile like I wanted to!
The lower trail goes in and out of the trees and scrub. It is extremely hot and sunny late in the day. If you're hiking it in the morning, you'll be in shade, but afternoon, you'll be cooking.
Looking back down towards Big Cottonwood Canyon
As we approached the lake, the trees dissapeared and we wandered through amazing glaciated stone. I'm no geologist, anyone know what kind of rock this is?
Modern petroglyphs in an alley of rock
Absolutely stunning paterns in that rock. Too bad it's all scratched up with people's names.
I might as well have called this 'Lots of pictures of Sundial Peak', because that's about all you're gonna get from here on out.
I love love love the glaciated rock in this area. You can totally see the way the ice scraped across leaving striations and polishing the surface. Very, very cool.
Mr. Shadow is everywhere...
Summit
getting a shot of the glass.
Tons of amazing cascades up above the lake. It would have been cool to explore them if we had more time.
The lake was boiling with fish rising. I didn't bring my gear. It is legal to fish at Lake Blanche, right? I know you can't really do anything else in the holy watershed... Except build huge ski resorts of course.
There are huge walls built around Lake Blanche that would make it 20+ feet deeper if they were intact. It's so nice to see a giant exploded hole in a dam like this. I can't help but think how much I'd like to see a similar hole applies to a few other dams...
The light started to go red long before I expected it would. Might have been the haze on the horizon.
I had to run back to camp to get a battery. I slept out under the stars exactly where my backpack is in this picture. It was NICE.
After the light show on the peak went out, I ran over to the view of the valley to take pics that direction.
The Great Salt Lake from Lake Blanche. Perfect view to the west.
A test shot once things were getting dark. I was curious what I could do with f2.8 and IS.
Later on we went down by the lake to shoot star trails. I haven't processed any of my trails yet. Some clouds came in soon after we started so they might make a better time lapse than trails. But I liked this shot.
We were up until after 1am shooting stars. The plan was to wake up way early, like 6am and hike down and go to work. Yes, we both had to work. But the late night meant that I didn't roll out of my bag until close to 7am. The morning light at Lake Blanche wasn't impressive.
Booking it back down to the trailhead.
My thoughts on Lake Blanche... it's pretty. Really pretty. But I think most of that is because of the glaciated rock and Sundial Peak. The old dam walls around the lake are an eyesore. It would be cool if a bunch of people would get together and rip those things apart. The hike itself is okay. Steep but not nearly as steep as everyone made me think. It's a pretty consistent climb. My biggest complaint was doing it late in the day with the heat and humidity down in the lower section. Overall, great trip. Looking forward to a return.
Featured image for home page: