My original plan for the holiday weekend was to backpack to Hell Hole Lake in the Uintas. I did everything right, packed the night before, uploaded a .gpx file of the route to the GPS on my phone, packed a map, and I also had a plan for hiking times and when I would reach camp. I made it to the trail head, put the pack on and headed on in. I crossed the river without getting my feet wet, so I was feeling good about things. When I got across, there was a horse tied to a tree and what looked like a single track heading into the woods. I followed it for about a mile or so until it dead ended in chest high dead fall. To top it off, my GPS app was not loading the map, it kept crashing every time I would try to use it. Kind of feeling lost and finding no visible route, I had to make a decision at that moment. I was kind of unsure if I could even find my way back out to the trail head. Do I continue on and hope I run into the road in the fork, or do I try to retrace my steps to the Jeep and live to try again another day? I chose the later and made my way back out to the river. I crossed it again with no problem and got back to the Jeep. Frustrated, feeling like a failure, I just about packed it up and headed home. I then decided, since it was now much later in the day, to head in and see if I could snag Shadow Lake for a night and figure it out on Sunday.
I arrived to what I expected, a packed trail head. Holiday Weekend, go figure. But amazingly, someone was just pulling out as I was pulling in. I snagged the spot, threw on the pack and made my way in. I was moving at a quick pace, passing Washington Lake, and Tail Lakes like I was in a race. I arrived at Shadow Lake. To my surprise it was empty! Not a soul was there. I got my spot and set up shop. Once I settled in, a couple of day hikers came in, but they were on the other side of the lake. I did not even notice them minus when they arrived. I think they just had a quick snack and moved on. I put the fly rig together and took a crack at fishing. After catching some pan fryer brookies, I hooked into a very large Tiger Trout! Seriously some very fast fishing at this lake. Much faster than on previous visits here. Sunset came and it was beautiful, as you can see in the title photo. Soon after a couple came in and set up across the lake from me. they were very quiet. I could just see their fire from my camp. Darkness arrived and I put out my camera for a star trail and settled in for a nice night by the fire. This was one of the best nights all season! Vibe was good, and the fire was warm! After finishing my beverages, and gathering up the camera from its long exposure duties, I hit the sleeping bag for some much needed sleep.
The next day I awoke to clear skies and mild temps. I got some coffee going and watched the mist drift cross the lake. I made breakfast and went fishing again. It was fast action again, just pan fryers this time. I was just lounging around wondering if I was going to stay a second night, when a group of fifteen backpackers came rolling in. That made up my mind for me. I was gonna move on. I was packed in 45 minutes and hit the trail to head to the Jeep. I arrived to a mad house at the trail head, and I threw the pack in the car, shooting to see if I could just walk into Bourbon Lake and set up for the night. I made the drive over there only to find no where to park. I waited about an hour for someone to come out and leave, but alas it was not to be. I decided I would head out. I drove back up to go over the pass when I saw an open parking spot at the Fehr Lake lot. I figured it would be better than just dispersing it out on the road. So I took the spot, threw on the pack after reloading it, and made the short walk in. I found a spot on the east side over a ridge and away from the lake as to avoid the day hikers. There were a few, but not as many as I saw at the Crystal Lake lot. I got things settled for the night and decided to give fishing a shot. Alas, some hits, but nothing landed. Dusk started to settle in and the clouds were building from the south. I was kind of thinking I might get a thunderstorm as the sound of distant thunder was rumbling on the east side of the range.
This fortunately did not come to pass, but the clouds made one hell of a sunset to witness. I returned to camp and got on the evening gear and lit my fire. As darkness set in, I put my camera out on the south side of the lake, and let it do its thing. I returned to camp and had another great night by the fire. It was quiet and no one was there. I had the place all to myself once again! What are the odds of that on Hwy 150 on a holiday weekend? The moon broke through the clouds and the stars were amazing! I just relaxed and took it all in as the moon sailed west through the sky and the flames flicked in the fire. Eventually I reached my limit, and turned. I awoke to seeing my breath, and it was chilly for the first hour in camp. I did coffee and breakfast and then gave fishing another shot. Nothing once again, but still fun to be out there tossing a line. I packed it up and made the short hop out to the Jeep. Not exactly what I set out to do this past weekend. Its been a long time since an area had me turn around. But all things considered, I think I made the best of it. Enjoy the pics!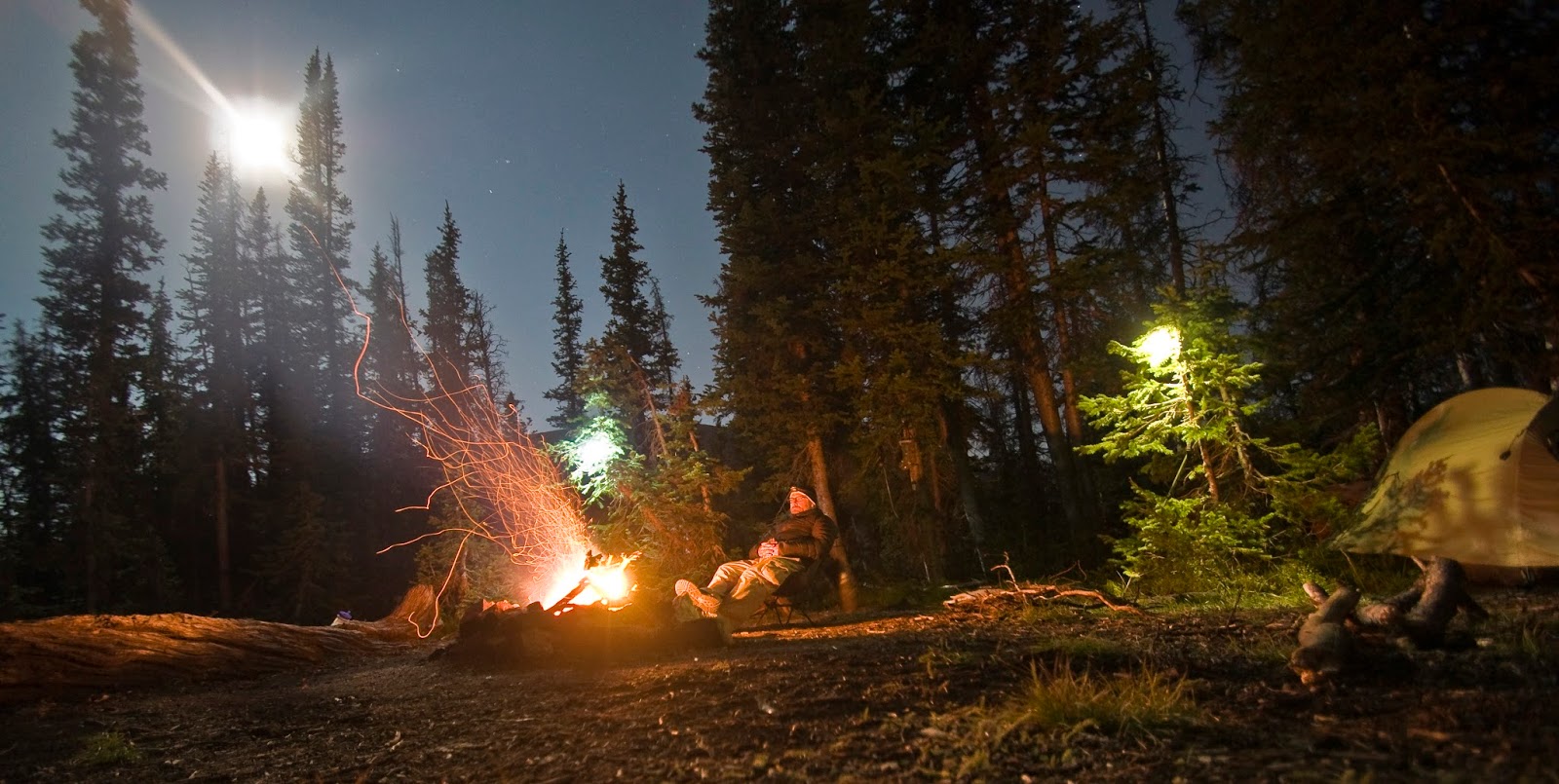 Last edited: