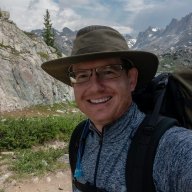 Joined

Apr 8, 2015
Messages

844
So I've been planning to make a quick run out to Utah in late april/early may. originally the plan was to have 3, maybe 4 days there, and my intent was to focus on the Needles district and do some dayhikes.

However, I've been working lots of overtime lately and probably looking at too many trip reports. so I've tentatively decided to use a little more vacation and do a more thorough tour of the desert. I'll have at least a full week in Utah. I can be gone a total of 12 days, including driving there and back.

My question is, if you were a guy who likes dayhikes and maybe an overnight (solo, anyway) backpacking trip or two, what would be some of your top choices in Utah? In my own head I kind of figure on hitting the southeast part hard, but I'm open to other suggestions.

Dates would be April 24 to May 5. also if anybody wanted to meet up for a hike in that time frame, I'm game for such a thing. you can ask curt or frahminator if I'm any good for company!