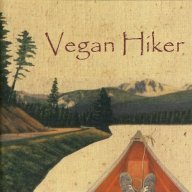 Joined

Jul 5, 2014
Messages

2,089
We all know the saying "hike your own hike". I guess that was sort of the theme of the weekend for my buddy Craig and I, although I don't think the phrase was ever used. This report isn't really about my hike which really wasn't spectacular enough to warrant a trip report. This report is about two friends with vastly different hiking goals and hiking styles embarking on a trip together to the northern Adirondacks with the plan to eventually split up and take separate journeys. While the pictures that follow are of my journey. It's Craig's adventure that is the real story worth telling.
My longtime friend Craig (
@GRECO
) is one of those guys that enjoys pushing himself to the limit both physically and mentally. Craig wouldn't be Craig if he wasn't willing himself to achieve some sort of challenging goal. As an example, when I jumped into the driver's seat of his car this weekend, I saw a small piece of tape stuck to his instrument cluster with "4:59" written on it. When I asked about it, he replied that it's a reminder of the mile run time that he's working on breaking. That's how Craig operates. Besides being a gifted runner, he's an Appalachian Trail thru-hiker and has even shared the trail with some guys here on BCP (
@Ben
,
@Joey
, and
@Chuck the Mauler
, and myself) out in the
Tetons last fall
Craig used to live nearby in northern New Jersey but took a job in Pennsylvania a little over a year ago. He now lives a few hours away from me in PA.
This story starts on a little known trail in Harriman State Park, NY, exactly one week prior. Craig had texted me a few days before and said, "hey, I'll be in NJ this weekend, let's go on a hike". I had been pretty sedentary all winter. I sorely needed to start shaking the rust off since I have a 2 week backpacking trip coming up next month in Canyonlands. So I said "sure, let's do it". Craig suggested we put in a long day and thru-hike Harriman; a hike just under 24 miles. A few of you have hiked with me and know that I'm by no means a fast hiker. I like to pace myself, take my time, and I'm a far cry from the athlete that I once was. So Craig compromised and we did a mild 13 miler which was more my speed.
I'm not sure exactly how the topic arose on the trail that day in Harriman, but the the Great Range Traverse in the Adirondacks came up. The Great Range Traverse is #3 on Backpacker's list of
America's Hardest Dayhikes
. Its 25 miles with 17,600 feet of elevation change over 11 mountains (2 of which have to be summited twice) along the most difficult terrain I have hiked on. Craig had never heard of the Great Range Traverse and had never hiked in the Adirondacks but he was instantly intrigued by the challenge and he peppered me with questions. I had attempted the Great Range Traverse as a WEEKEND backpack this past summer but the incredibly difficult terrain slowed my pace to the point where I had to take a bailout option to ensure I made it back home in time for work on Monday.
(My failed attempt at the GRT)
It's still hard for me to fathom somebody dayhiking it, but if I had to put money on anyone, it would be Craig. Craig casually said "maybe I'll try dayhiking it next weekend" before the conversation drifted to another topic. I didn't really take his comment seriously. People that attempt dayhiking the Great Range spend weeks meticulously planning and waiting for optimal conditions. March is mud season in the ADK's. Warmer temps during the day and below freezing temps at night turn the trails into a muddy mess in the lower elevations and into slick smooth ice in higher elevations. Definitely, less than ideal conditions for attempting a Great Range Traverse.
Sure enough later that week, around Wednesday or Thursday, I got another text from Craig asking if I wanted to head to the Adirondacks that weekend. He was serious about dayhiking the Great Range. I said "sure, let's go" with the plan on giving him a car spot and then tending to some of my own business in the ADK's. Late last season, I made it a goal of mine to become an ADK 46er; someone who has climbed all 46 of the ADK high peaks. I planned on attacking my goal when returning from Canyonlands in early May, but this gave me the opportunity to get an early jump on my goal.
So exactly one week after our chat on the trail in Harriman about the Great Range, we were en route to actually get there. Craig drove from his house in Pennsylvania to my house in New Jersey on Saturday and we embarked on the 4.5 hour drive to the northern Adirondacks. We analyzed trail maps over some grub and local brews at the Lake Placid Brewery Saturday night and shacked up in comfortable bunks at Tmax and Topos hiker hostel, a great facility for hikers in the ADK's.
Sunday morning, we got up at 3:30 a.m. and arrived at the trailhead where Craig would be starting the GRT around 4:30 a.m. He hit the trail right before 5:00 a.m. by headlamp. The temperature on my cell phone read 4 degrees. The plan was for me to go do my own hike then meet him at the trailhead where he would be finishing. Craig estimated he'd need 14 hours but I planned on being there by 5:00 pm and hunkering down and potentially waiting several hours.
After watching the light from Craig's headlamp disappear into the darkness of the woods, I headed back to the Hostel and got ready for my own hike. I took my time and waited until 7:30 a.m. for daylight before starting my hike. I hadn't really decided on a route until the night before when I had heard from someone at the hostel that the McIntyre Range was relatively ice free compared to the other ranges. So the McIntyre Range became my plan. Hiking the McIntyre range would allow me to knock 3 high peaks off of my list, Algonquin (the second highest mountain in NY), Wright, and Iroquois. I'm ordinarily a very detailed planner with my hikes but my poor last minute planning really came back to bite me. Without paying too much attention to the map, I planned on hitting all three peaks on an out and back of a little over 9 miles. I thought that since Wright and Iroquois were spur trails I'd only have to climb each peak once. I had successfully taken the spur and summits Wright Mountain then headed up Algonquin. When I got to the summit of Algonquin and checked the map again, I realized that if I did the out and back route that I had planned, I'd have to summit Algonquin a second time and I was NOT looking forward to doing that tough climb again. So after crossing the summit of Algonquin and heading towards Iroquois I decided to re-route my return and make a loop that would bypass Algonquin on the way back. I estimated this would only add another 2 miles. As it turns out, it added over 5 miles and prevented me from making it back to my meeting spot with Craig by 5 p.m. So I ended up doing a 14.4 mile loop, which would have been fine and dandy, but there was another crucial planning fail on my part… After summiting Algonquin, I headed down the spur towards Iroquois and summited what I thought was Iroquois' summit and turned around without checking my GPS. As it turns out, this wasn't the official summit, it was a false peak only 13' shorter than the true summit which was about 1/8 mile further down the trail. Since Iroquois is one of the official 46 high peaks, I'll need to go back and repeat a big chunk of this hike to bag Iroquois in order to become a 46er. It is what it is.
By the time I finished, it was already after 5:30 pm and I was worried Craig had finished and was waiting in the cold (it was probably in the high 20's at this point but still cold). I made the 30 minute drive to Craig's finishing point and hoped that he wasn't waiting. I got there a little after 6:00 p.m. and there was no sign of him. I knew I could potentially be waiting a few hours, so I started to get comfortable. However, less than 3 minutes after parking at the trailhead, Craig came bounding down the trail and into the parking lot. I popped open a bottle of Big Slide IPA from the Lake Placid Brewery for each of us. He had finished one of the most difficult dayhikes in America in a little over 13 hours in less than ideal conditions. I was impressed beyond words and it felt amazing to be witness to his epic accomplishment. The 4-5 hour drive flew by as we exchanged tales from the trail. We had 40 miles of trail and 14 summits to discuss between both of our hikes. It was a great weekend in one of my favorite areas and I can't wait to resume my goal of becoming a 46er in May. Something tells me Craig will be making a few more cameos in the dacks.
The pictures below are from my hike in the McIntyre Range.
I tried taking a few night shots at a field down the street from the hostel. I still haven't figured out night focusing. I pulled back a little from infinity, but I'm not sure how far to pull back.
My hike started at a place called Heart Lake.
Some of the trail down low was waiting to thaw into a muddy mess.
But after a mile or two the trail became a nice light snowpack, perfect for hiking in microspikes
Lost the trail for moment and wandered past this lean to. Sub-zero temps in just a sleeping bag could not have been much fun.
The first several miles were an easy steady climb.
This was the first of two frozen waterfalls that I passed.
The higher I got, the prettier the snow looked.
Unfortunately, in March the ADK's don't have their magical lush green look to them.
Climbing up the steep rock face of Wright Mountain, Algonquin comes into view.
A better look at Algonquin from Wright
Back down into the green tunnel on the way to Algonquin
The McIntyre range is pretty far from the Great Range, but from the summit of Algonquin I could see the Great Range off in the distance with Mount Marcy, the tallest mountain in NY off on the right side of this picture. Craig was climbing Mount Marcy right around the time I took this picture. If you look closely you can see him waving. If he was on Marcy at the same time I took this shot from Algonquin, then we would have been on the two tallest mountains in NY at the same time.
Looking the other direction from Algonquin towards what I thought was Iroquois. This was the false summit I accidentally turned around on. The true summit is an 1/8 of a mile past it. I saw it, but assumed I was on the summit of Iroquois looking at a totally different mountain.
Heading down into the valley. In avoidance of climbing over Algonquin a second time, I took a loop down into the valley past a few lakes. This was several miles longer than I thought it would be.
Another frozen waterfall
This is Avalanche Lake
Avalanche Lake has a few sections where these interesting boardwalks were somehow secured into the rock making it passable. It would have been much cooler if the lake wasn't frozen.
There were a few jungle gym like ladders and whatnot around Avalanche Lake
The home stretch
Looking straight up in a tall stand of trees
Two pics stitched to make a vertical pano of the trees and trail
Strangely, the water near the trailhead was no longer frozen by the time I finished
Last edited: