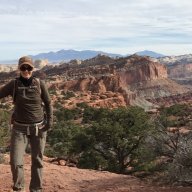 Joined

Sep 7, 2014
Messages

118
I've seen nekkid sunbathers several times down Pleasant Creek Canyon in Capitol Reef. I think 4 or 5 times over the years. The fact that I was always with guests made it even more entertaining, lol. Always women, just hanging out by the creek topless. Each time they were right on the trail and seemed utterly startled that anyone else would be there. It would have been very easy to just go around one curve of the creek to be totally hidden by the trees, but apparently none of them thought anyone would be on the trail, let alone a group of people on horseback suddenly rounding the corner.

I also had guests once who, when we reached our destination of a mountain lake at about 9,000 feet on the Boulder, told me the husband liked to skinny dip in each lake they adventured to on their vacations and his wife (who thought he was crazy but indulged it) would take his picture. So I dutifully turned my back and cleaned my nails or something while he stripped down, leapt into the lake, yelled because it was icy cold, got his picture taken, and then bolted right back out to dry off and dress again. They were really cool people, actually.

And I also have friends who have seen naked hikers in a few of the local little strolls around Torrey, like Holt Draw (just past the overflow campsite outside the park). Those were men in their altogether, marching along wearing daypacks. I'm pretty sure she said this was in a cold month, too. Who knows what their motivation was. I hike there all the time and have never seen anything similar, for which I must say I'm rather glad.