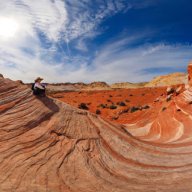 Joined

Aug 18, 2018
Messages

697
We met two guys yesterday while hiking. The first one was very interesting, we hiked with him for some miles, he had lots of experience, I posted a pictograph in an album. He also had a previous quicksand experience, waist deep in Paria River.
The second guy was at the TH, when we returned and I saw him pull his underwear up. No big deal, we all change clothing at the trail heads. He was also barefoot, in his underwear and a t-shirt inside out. He was hiking barefoot he said, just a casual, easy walk down the wash. We have seen some people hiking barefoot before. Good traction they say. My turf toe injured big toe loves shoes, rigid shoes. In particular in sandy washes. Then he asked several questions and at some point, I replied it was very warm all day and I was hot. Then he said, "you could just take off all your clothing and hike naked he said". I do that, he said. As a matter of fact I saw two girls earlier today at the Toadstools hiking naked, actually topless, he said. "Really!" I said!
Should I mentally prep myself for the encounter of people hiking naked on the Paria plateau or was this an unusual guy?
We are fairly certain he was getting ready for his naked hike into the wash. I have heard about it in Vermont, I just didn't expect it in Utah.
@Rockskipper
- this is a stark contrast to your frosty book store experience in that area
Last edited: