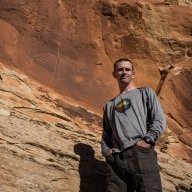 Wildness is a necessity- John Muir
Joined

Jan 4, 2014
Messages

1,062
I've been fairly quiet on here for a while, having mostly done a lot of adventuring of the "keep it secret, keep it safe variety" but with the desert getting hot now some more general recreation hiking is starting to happen, so I figure more sharing will happen now.
5.30.18
A group of the seasonal staff at my park has taken a liking to hiking together when they can and they invited me along for their first mountain summit adventure. Having been here for a year they thought I would know all the answers to hiking in the La Sals, which was fairly unfounded. Yes they are close by, but I went to further mountains quite a bit last summer, so I was along for the ride on this one! They wanted to summit Mann's Peak, supposedly on of the easier La Sal mountains to get to the top of. While there is a trailhead higher up that would have shortened our walk by a good bit, when I saw they were in a sedan when we met outside of Moab I didn't bring that up. Hiking from Warner Lake would mean a longer hike and more elevation, but that isn't a bad deal at all.
The morning was beautiful when we arrived at Warner Lake. Still air, clouds in the distance and so many different bird calls that I was running around trying to find them all.
I love how quickly one can get away from the red rock desert with these mountains. It takes just about an hour to be in a completely different environment. It's also so much quieter. The trail started out in quaint aspen forests before following a stream up the mountain to Burro Pass.
We were all feeling the steepness of the trail and the elevation by the time we hit Burro Pass. It's still a bit early for the winter body, and two of the group had never been this high before in their lives. A bit of ugly weather was also brewing though, so we couldn't really linger on our way up...
I was surprised by all the buggy life up there.
And after a while of five foot start/stop walking, a summit was reached and views abounded. Sorta. We would probably be able to see further on a crystal clear day but storms dominated our views southeast towards the San Juans. See them another day I guess.
While lunching on the summit we had quite the discussion about making the pika the face of climate change while they scurried about on this alpine island of theirs. We also got snowed on a little bit, which was great considering the clear forecast we had in the morning. A couple parting shots were taken before flying down the hill. It's crazy how quick all that elevation gets lost compared to how long it takes to go up.
So yes, first summit of the year under the belt now! Woohoo! Here's to more upcoming.