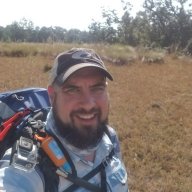 Joined

Jul 3, 2019
Messages

26
Hi All

Going to be doing 8 days in a remote area in Yellowstone in a month with my son. I typically only go 4-5 days without resupply and on the AT and Florida Trail with more ready access to help in an emergency. The Thorofare in Yellowstone is the most remote wilderness in the lower 48 so I want to be prepared to attend to injuries for longer than I normally would. We will be carrying an inReach Mini in the event of something catastrophic. Typically my ifak is centered around dealing with blisters etc. For this trip I've expanded my kit quite a bit. Check out my kit contents. Am I going overboard? Am I missing something?

1 x CAT Tourniquet
1 x Israeli Bandage
1 x Hemostatic Gauze
2 x Chest Seal
2 x 4-yd Gauze Roll
1 x Benadryl Cream
1 x Triple Antibiotic Cream
1 x Super Glue
1 x Trauma Shears
2 x Space Blankets
1 x Leukotape Roll
1 x Athletic Tape Roll
1 x Mini Swiss Army Knife
5 x 4x3 Moleskin Pads
6 x 2x3 Nonstick Gauze Pads
4 x Large Bandaids
1 x Sharpie
1 x Needle Decompression Kit

Any feedback would be greatly appreciated. I am (civilian classes) trained in using everything in the kit + CPR/BLS etc.