Here are some pictures from the hike up to the top of Exit Glacier via the Harding Icefield Trail. It's either three or four miles, and gains about 3,000'. Some of these pictures have very bad exposures, but they're all i have, so you know, we'll deal with it.
Initially the trail works it's way through dense vegetation with occasional glimpses of a view. The line through the trees to the left of the stream is the road leading to the visitor center and the parking lot for the trail.
This was a bridge. If you can not tell, the beam is not placed flat.
The bottom extent of the glacier meeting the valley floor.
First views up to the top of the glacier.
You can see the snow melt just pouring off the mountain. It was like that all over Alaska while we were there.
The trail, the road, the streams. you can see my brothers coming up behind me and my other brother who hikes at a reasonable pace here.
Spencer nearing the top.
The trail keeps going.
We crossed some snow fields.
At the top. The Harding Icefield. It goes back as far as the eye can see. It is actually quite huge. There's a person silhouetted on a rock outcrop below and left of center.
The view back out the valley.
This picture gives you the best idea of what it looks like there, if you can view it large enough.
We had enough time waiting for my youngest brothers to catch up to enjoy our selves.
You can see how cold it was up there during our visit.
We spent a little while enjoying our selves on that slope. Skiing in july.
We also explored the top a little. This stream flows down to the glacier, from who knows where, and then under it. It is actually a lot of water, moving very very quickly.
Hopping the stream.
The youngest two finally made it up.
Three of them did a polar bear in one of the melt puddles and sang 'I'm A Little Teapot'. I'm smarter than that, i filmed them.
Featured image for home page: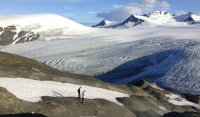 Last edited: