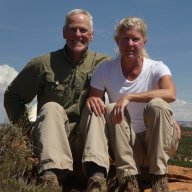 Joined

Dec 7, 2017
Messages

158
My husband, Blake, and I recently went to the Farmington, NM, area in search of ruins and rock art (and sun!). While we weren't entirely successful in our quest for sun, we did see some interesting glyphs and dwellings.
Below are some photos from the trip. If interested, here's a link to information on the ruins:
Dinetah Defensive Sites
First up, we checked out some of the panels in Crow Canyon. We got a late start that day so we didn't go beyond the first area right at the mouth of the canyon (on the north):
Unusual birds:
Fancy garb:
Great head-dress:
Corn:
Francis Ruin was the most extensive site that we visited. It had a commanding view of the canyon over which it stood. The tower (back right, tallest structure) used to be 3 stories tall, but is now only 2.
A once-stuccoed fireplace:
Intact roof:
Tower built on top of sandstone:
A more difficult to find site is Christmas Tree Ruin. It sits a few benches below the canyon rim:
It's different from the other ruins in that it sits in an alcove:
The second Citadel site we've been to (the first being in Cedar Mesa). I seem to recall that there's a third site with the same name, but it escapes me at the moment:
T-shaped doorway:
A view from below. Very defensible:
Two "buildings" connected by an inner courtyard:
Boulder Fortress left us puzzled as to how one would enter the site as it was sitting on top of very tall, sheer walls. I wouldn't have wanted to leap from the adjacent slab of sandstone!