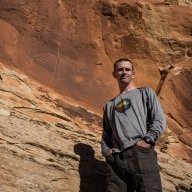 Wildness is a necessity- John Muir
Joined

Jan 4, 2014
Messages

1,099
Finally I have some time to visit the library and utilize some internet!
So I'm back in Wyoming for the summer, again patrolling the Cloud Peak Wilderness. June is fairly early in the season though so not much patrolling has happened. It's mainly been a month of trainings that didn't amount to much.
At the beginning of the month I was sent to the "Wilderness Ranger Academy" at Curecanti NRA in Colorado. It wasn't much of an academy, really more of a get together or conference but it was a nice week among people of similar mindsets to mine. My phone died the first day... so I didn't get many pictures around Blue Mesa Reservoir, but I got some of the Black Canyon of the Gunnison from before the rendezvous. Sadly the panos keep uploading sideways... so I'll just thumbnail them so those that want to look at sideways pictures can.
After that week I had a week of "fire school." I shouldn't have done that because I'll never fight fire and firefighters can't seem to teach worth anything.
In the meantime though, I had a moose come by my place. He was pretty fun.
After all that, finally I got to go into the wilderness. A wilderness portal needed to be put up and I took the chance to hike all the way up to 7 Brothers. Pretty as always.
Then another "training" popped up, crosscut saw training. I was psyched because I thought I'd finally get certified to use the tools but no luck. Instead I just got a trip back to Lake Solitude and a minuscule amount of play time with the saw. Odd how probably one of the most experienced on the forest can't have a certification squeezed into his schedule.
It was of course gorgeous out that way. I got to spend some time hiking up the creek to Solitude instead of the trail and it's now one of my favorite adventures in the CPW.
So yeah, get ready for them because TR's will be coming out of my neck of the woods regularly now.