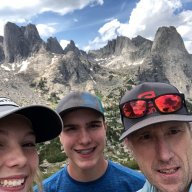 Joined

Dec 27, 2012
Messages

546
I recently purchased an Anker Powercore 20000 charger for business and personal travel as well as backpacking. I was in Dallas at the time on a one week business trip. My wife was leaving for NYC when I got home. This charger appealed to me because of the claim that it could deliver 7 full charges to a smart phone. At $49 the Powercore appears overpriced next to other low cost alternatives. The shelf at Wal-Mart was full of other options at or below $10. However, I have a lot of experience with those budget chargers and was finally willing to fork out the money for a serious power source.
Upon opening the box I noticed the weight of the charger. It is all battery with no space inside to make it appear more powerful than it really is. It was fine for traveling. It has two USB ports. The green port was for extra fast charging. There are also four LED lights and a power button. That's it. I wish it had an LED light for tent use. I immediately began questioning its viability on the trail in my pack. I would bring it along if I was going to be on the trail more than 4 days and planned a significant amout of phone use, was doing a great deal of filming for a thru hike YouTube channel or similar. It would also be useful for a large group of people. I would probably talk someone else into carrying it though.
The Powercore takes several hours to fully charge. Upon full charge I plugged in my phone in the green port and noticed a significant increase in charging speed from a standard battery charger. I was planning on bringing the charger to meetings but I didn't need to because of how fast it charged up my phone. I was very pleased and felt like it was well worth the money even at that early stage. Over time my opinion has not changed.
I charged my phone (iPhone 6) four other time s that day. The Powercore still had just under 1/2 power left. This gave me the impression that the seven charge claim was a solid estimate. Especially if you have your phone on airplane mode while charging.
Overall I am very impressed with the Anker charger and give it a solid thumbs up. I may purchase another smaller model for my backpacking trips. I usually only get out for 2-3 nights at a time so this model would be overkill for my personal needs in that timeframe.
Do you have an Anker charger? How do you like it? Have another charger that works for you?
Feel free to comment...
https://www.amazon.com/dp/B01N0X3NL5/?tag=backcountrypo-20
Upcoming Reviews (as time permits):
-Synthetic hiking socks 2 for $1
-Zero drop trail runners
-Waterproof Socks
Last edited: