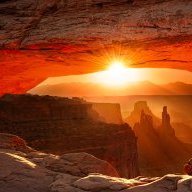 Joined

Feb 17, 2015
Messages

50
Just recently I was in Utah and took three days to do the White Rim Trail, After the mid-point of the journey, I started to get a little tired of it, of bumping over the rugged road and being jostled about in my Jeep, of being surprised by one more unexpected hairpin turn and another narrow cliffhanger with a deep canyon drop-off just a few feet from where I sat in the driver's seat. This was surprising to me, having wanted badly to make this trip, and not having been able to travel to Utah for over two years due to unemployment and health challenges. I wouldn't have expected anything but excitement over this second trip on the White Rim after such a long delay, and being prone to self-criticism, I attributed my reaction to a personal failing to appreciate the experience and an innate laziness that resisted accepting such a challenge. I imagine that everyone else goes on happily and never ha the impulse to turn back.

But now I question that. When you are out on a long hike or back country adventure, do you ever feel a weariness or just wish to be back in an easy comfortable place? Isn't that just part of the experience that happens but which you overcome, just pushing on to your goal? That is what I have done before when I was on a long hike and was hot or dirty or got tired or had some chafing. Momentarily it didn't seem worth it, but it didn't cause me to stop and I finished what I set out to do.

What has it been like for you?