May is turning out to be quite the month of trips for me this year. I started it out with a bang in The Maze and Chesler Park and will finish it with an awesome loop through Forty Mile Gulch & Willow Gulch followed by a big trip though Salt Creek in The Needles. Life is very good! This weekend I decided to stick around home but for fun I went out on a quick overnight backpacking trip with Bill and his family in Big Spring Hollow up Provo Canyon. This marks the first official trip to the mountains for 2011, and the first mountain trip since I floated the South Fork Snake River back in October. It was great to be at higher elevation and hike around in something other than sand and slickrock for a change. The highest elevation we hiked to was the head of Big Spring at about 6600 feet. There was a lot of mud and some patches of snow in the trees at that elevation and most everything was still dead with the exception of grass and some buds on the aspens.

It is a very short hike in to where we would camp so I went all out on the luxuries. A full 12-pack and a full size camping chair! My pack was SO heavy. I think it was probably a bit over a mile but it was steadily uphill which made that pack a bit painful.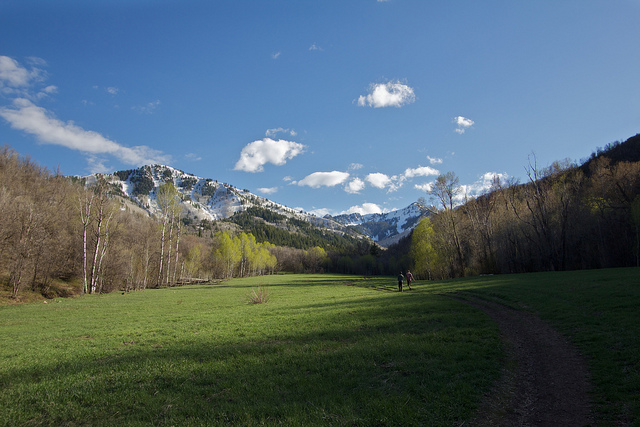 We setup camp and then went for a quick hike up to Big Spring before the sun went down. This is where the trail passes Big Spring and loops back over the the old road that you can then follow down to make a bit of a loop.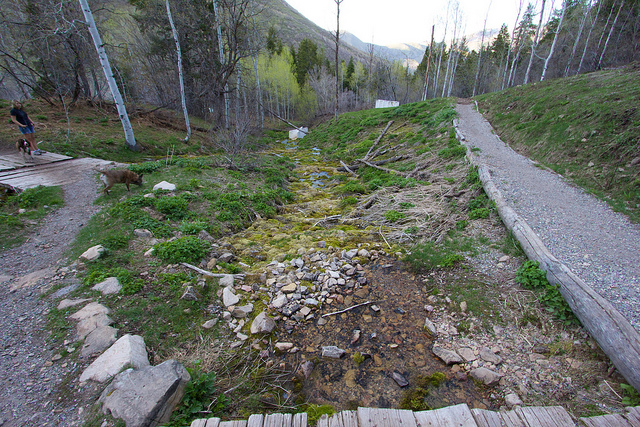 This picture is not a very good picture. The reason I posted it is because I inadvertently got a pic of this guy in camouflage being all super sneaky right alongside the trail. I didn't know he was there until I was about 15 feet from him. He's in the far left hand side of this pic right at the base of the aspens.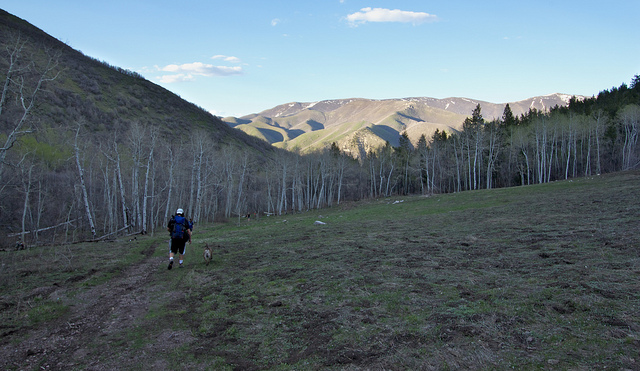 We stopped at a couple of places along the trail to take pictures of the various streams in the area.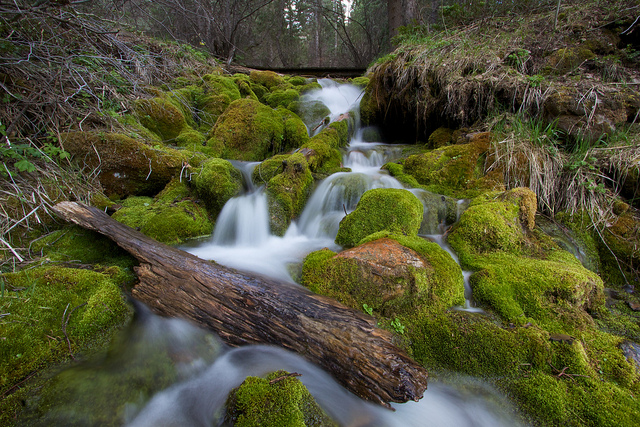 That's Bill on the footbridge at the top of the waterfall.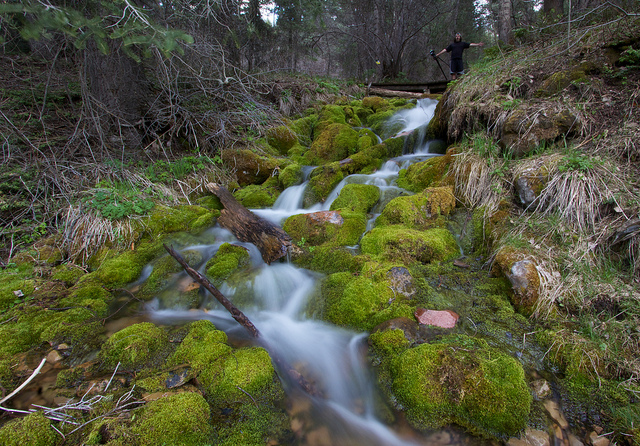 Nikita posing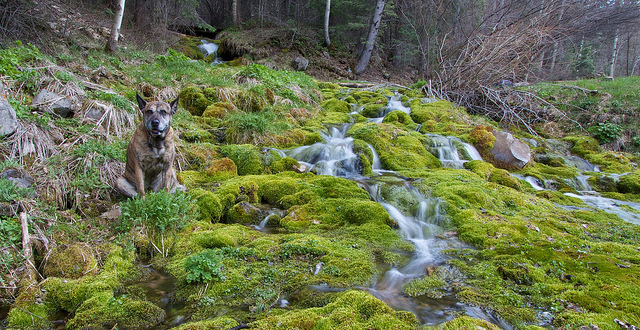 After the loop to Big Spring we hiked back to camp and spent a few hours enjoying the fire. A tree had come down during the winter just a few feet from the fire pit making the task of gathering wood very easy.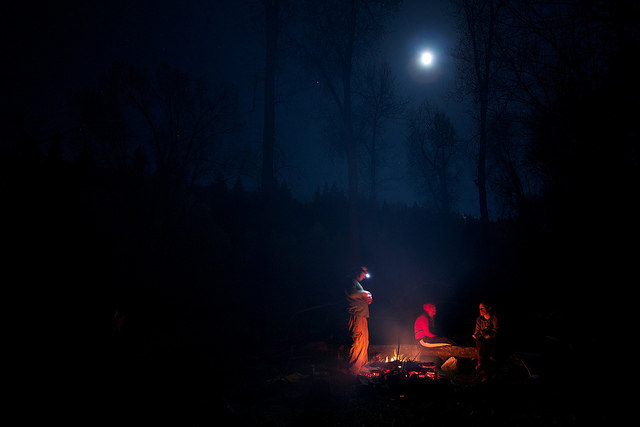 The moon was just a few days away from being full which made for some fun night photography.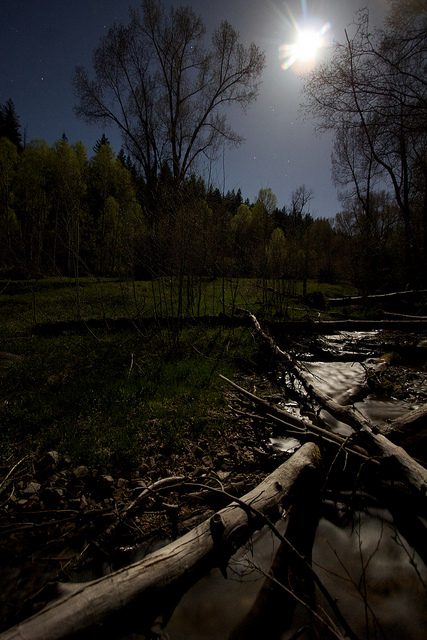 A little before midnight everyone went to bed at which point I decided to go setup my camera and do some star trails.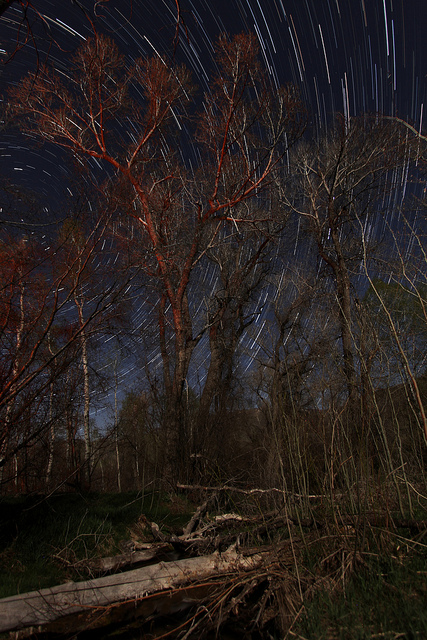 Nikita in the morning.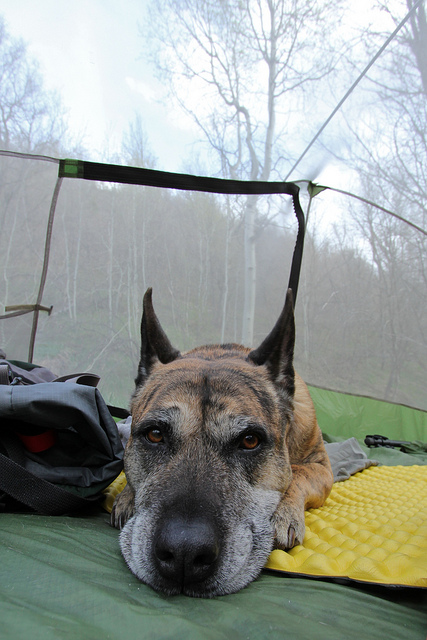 This is Nikita's tactic to get more chest rubs. If you stop, she pulls your arm back, she will repeat this for a very long time.

We packed up camp pretty quick and made the short hike out to the trailhead. It was a great quick trip and awesome to be back in the mountains.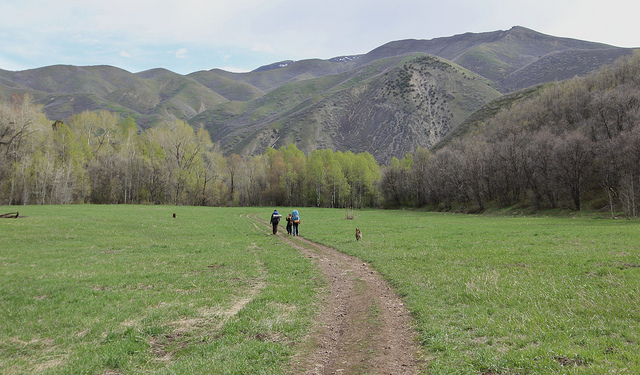 View the full set of photos on Flickr.
See more of my trip reports in the Wasatch Mountain Range.
Do you have questions or comments about this or any of my trip reports? Hit me up in the comments below or email me through my contact form.